We at Moving Memory are still as keen on changing the world as we were thirty, forty or fifty years ago.
The core company members started their personal journeys of change nearly ten years ago, when they came to movement and performance for the first time in their lives for a community project. Since then, their deep, rich, rewarding experiences, many very funny and many very risky, as individuals and as a group, have bound this group of rather amazing people together, giving Moving Memory its vision and ethical bedrock.
The company's passion for changing things has helped them to make perception-defying pieces, like the trademark Cracking the Crinoline, and given them the courage to get up and perform anywhere – from local shopping centres to the streets of Paris to gate-crashing the South Bank's (B)old Festival to a stage in Parliament Square for an anti-Trump demonstration.
Wherever we've performed, people, especially women, have asked how they can get involved, so some members of the core company learned to lead workshops. Our "Moving Well" workshops draw movements from participants and turn them into choreography. We've run these sessions in care settings and for the public and, because they always start with the people in the room, they are suitable for everyone. Thanks to funding from the Baring Foundation and Nominet Trust we've also developed a digital kit called Doris to help create more inspiring environments and support the workshop leaders.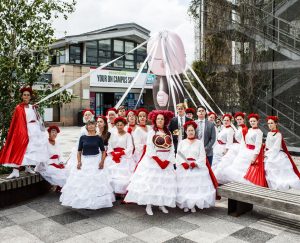 Now, we are finding more ways to spread our positive disruption. We are sharing the core company's creativity, courage and willingness to learn. Maybe it is the perspective of age, but this sometimes feels like a revolutionary act in the face of a society which seems bent on turning everyone into isolated atoms of consumption.
This summer, we brought together a company of 25 people, young and old, and made a performance, Start Stomping, for Gulbenkian's b0ing! Festival:
Moving Memory Dance Theatre Company … have an insightful and collaborative ethos that enables an atmosphere in which to explore a range of emotions making you believe you can become a better person. 

Company member

I liked the theme of the wrong sort of power in society being overthrown. When the dancers made eye contact with the audience it was really powerful …

Audience member
We worked for over eighteen months with Moving Minds, a group of people living with mental health issues who now have three members who lead the group themselves:
I was very surprised with myself with how much I actually did enjoy it and that my anxiety wasn't stopping me… I had always liked dance but had not ever been able to do anything with it… When the sessions had finished, my friend Tim and I did some training to enable us to facilitate our own group. Now months later Tim and I teach our Moving Minds group along with Alice who is our Audio-Visual technician, we collaborate which makes Moving Minds work.  
We have been working with a group of active older people, who originally came to one-off open workshops over a year ago and since then have taken part in more workshops, been involved in making Start Stomping and have now undertaken training in leading Moving Well workshops themselves.
Something seems to have shifted in me during the sessions and has given me a completely different outlook… I can't explain how or why this happened.
The group will continue to work with us on upcoming programmes and, if they are inspired enough, start their own projects. Throughout the training they have had access to our specially-made online resources – exercises and creative suggestions – which they will continue to use and add to. We're hoping more people will want to follow in their footsteps and that the online resources will enable care staff and dance practitioners as well as active older people to make Moving Well a national movement.
As a company, we have done a fair amount of formal evaluation (some reports are available on our website) and we are confident that we can demonstrate how our work helps peoples' health and well-being – this is really important to us. But, to be honest, we do it because we have a bloody good time – and perhaps, in today's world, that really is revolutionary.
We do it because we have a bloody good time – and perhaps, in today's world, that really is revolutionary.