'Art on your Doorstep' is a Celebrating Age project (jointly funded by the Baring Foundation and Arts Council England). Angela Hall, Director of Rural Arts, explains more…
"I have happier thoughts, and have something to look forward to. I like being appreciated. I am more motivated to get out and about. My greatest joy is sharing my love for music. I am feeling more involved; with Rural Arts, with the village, and with my daughter and am feeling better about life, especially in the last few weeks."

Norman, aged 96.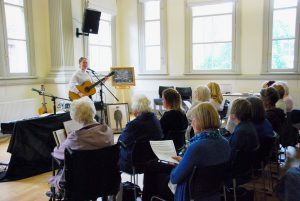 The above quote epitomises the current 'Art on Your Doorstep' project, which we are running here at Rural Arts with funding from the Baring Foundation, Arts Council England, and North Yorkshire County Council's 'Stronger Communities' fund. Our project, which is based in England's largest rural county, North Yorkshire, is taking place in the busy market town of Thirsk where we have focused our delivery within a 10-mile catchment area, aiming to reach out to older residents in over 20 small village communities.
Running for two years until end of March 2019, we have been seeking to increase the participation in arts activities by the over-75s through offering a wide range of creative opportunities with wrap-around support services, such as transport and help with participation.
The programme is new and has used all kinds of arts and crafts, music, writing and theatre. Exciting opportunities have included a monthly art café, providing an hour of arts and crafts activities and, for those who are less mobile, musicians performing on a weekly supermarket shopping bus, a series of artist-led 1-2-1 sessions in participants' own homes and a mobile shop delivering information about the project to older customers alongside their chicken delivery!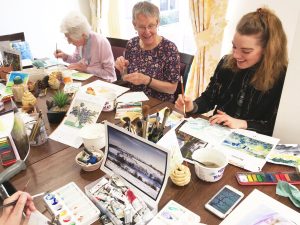 In addition to our participant programme, we have worked with our local rural communities to stage 'relaxed' shorter music and theatre performances in village halls in the early afternoon with a more social atmosphere. This has had a dramatic effect in engaging older audiences who find it difficult to get to our evening performances.
Our approach has been collaborative and we work in partnership with our local Community Care provider, GPs and the Living Well team who refer participants, arrange free transport, and provide a direct line to the most vulnerable.
Reflecting on the experiences from our project we have learned not to underestimate what older people can do: many like a challenge and using language that references elderly people, we are told, is a real turn-off!  We are also aware that for those living on their own it is very easy to say 'no' to going somewhere new and that encouragement to say 'yes' is the key to participation.
"Drawing group makes a real difference to the rest of my day and I look forward to Fridays. Fridays are always a good day, it encourages me to do lots of other things. It's like I've started a new life, I'm doing more and not just sitting at home."
Not everyone likes experimenting, but so many of our participants have commented that freeing up their mind and taking part in creative activities in a non-competitive way is one of the reasons that they keep coming back and why they don't attend formal art groups.  This is probably why we now have a lot more over-75s engaging with our weekly programme, as well as taking part in other projects including the design and making of our 'Processions' banner that involved over 25 retired older women.
Feedback from our groups has really inspired us. They are telling us how much they are enjoying the activities, getting to try new things and re-engaging with art in a way they never thought they would again. They really appreciate the support and guidance from the artists, helping them to achieve things they didn't think were possible. They especially value the social aspects, getting out and about more and meeting new, like-minded people. They especially like interacting with younger people, and being able to participate more, for instance at the musical performances. This has impacted on our future programming and we are now seeking more interactive theatre and dance companies for our rural touring programme 'ON Tour'.
Our future programming has now embedded a broad range of offers for older community members and suggestions have been pouring in, including a regular tea dance, that will be trialed in October and participants putting on their own performances, including an afternoon of light classical music, with anecdotes, which will be introduced by Norman, aged 96.
"Rural Arts has provided me with the opportunity and inspiration to find a direction for my fledgling art interest.  Advancing years, 84, and now living alone means it is sometimes difficult to develop new contacts and interests.  At Rural Arts I have been able to sample a wide variety of art disciplines in very friendly and stimulating surroundings to the point where I now have greater confidence to explore and pursue new experiences. The future is still exciting!"

Geoffrey, aged 84