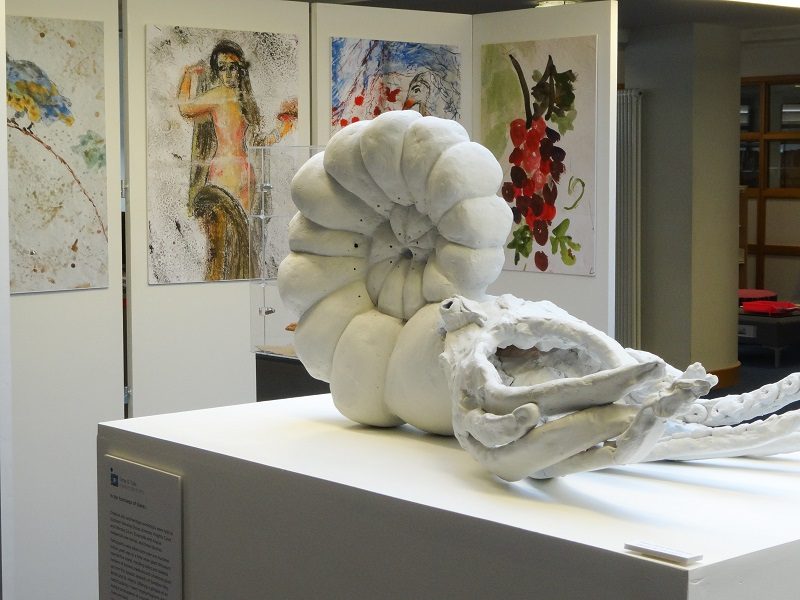 This shell sculpture was by the residents of Knights Court sheltered housing in Ventnor, Isle of Wight, with local pottery artist Neil Tregear. Fossilised shells of ammonites can be found on beaches around the island. Residents were shown examples of the fossilised shells and used iPads to research what the ammonites would have looked like when they were alive and then based their work on this.
It is just one fantastic work of art produced as part of a project called Time & Tide run by Independent Arts, supported by a grant from the joint Baring Foundation/Arts Council England Celebrating Age fund, and working with Southern Housing group as a community partner.
The project has drawn material from significant Island heritage collections and institutions and worked with local artists to deliver a year long programme of arts and heritage workshops held in Southern Housing Groups schemes, libraries, and care homes across the Isle of Wight. Participants have been at the heart of the planning and were invited along initially to a series of consultation workshops to canvass ideas and interests.
Time & Tide focused on seven rich areas of Island history and heritage. In the Footsteps of Giants (Palaeontology) – the ammonite sculpture  (or Arnie as he is known in the Independent Arts office!) arose from this; Heritage of Landscape (Ancient man on the Isle of Wight); Ave Imperator (The Roman occupation); The Bawdy Georgians (Thomas Rowlandson and Samuel Howitt watercolour collections); Poverty Pomp and Prosperity (Civic history of Newport and the John Dore collection of 19th century photographs); Seaside, Seashores and Seascapes (the Island's Maritime heritage); and Art and Identity (Portraiture and the work of Julia Margaret Cameron).
The 'Art and Heritage Café' introduced each of the themes in sessions led by our heritage practitioner which provided exquisite items for participants to handle and portfolios of images for discussion to spark interest and curiosity. Being so close to the history through these fascinating artefacts helped participants to connect with local heritage and the unique artefacts and the discussions around them have inspired the artworks. In addition, community workshops in Island libraries and care homes led by our in-house project artist have produced some stunning work in various media including painted fresco, clay, printing and painting.
Groups of participants took part in twelve-hour blocks of dedicated workshops led by our project artists. These artists work in a range of disciplines being painters, textiles artists, potters, sculptors, writers, dancers and photographers. These workshops have produced truly bold and ambitious large format works including sculpture, ceramics, paintings and mosaic.
The work from the first quarter of the year has been displayed in the Isle of Wight College Learning and Resources Centre. A final exhibition is planned in early 2019 to showcase the work of all our older artists.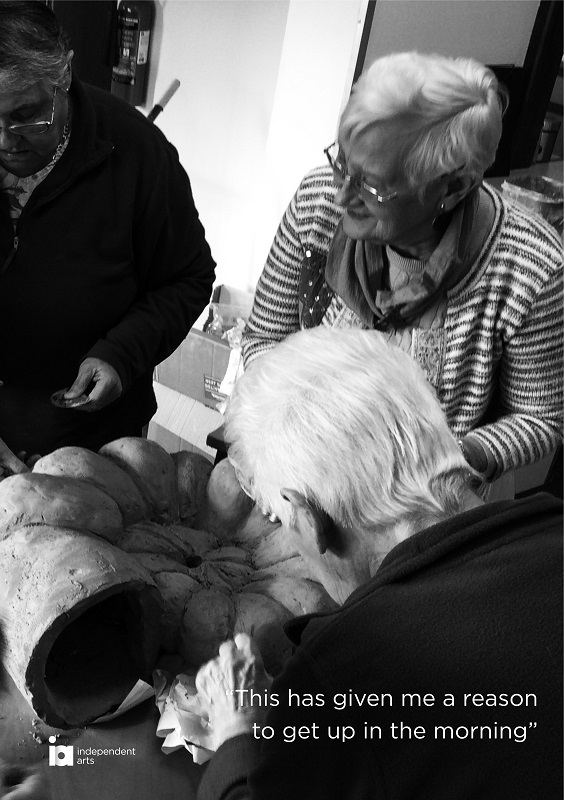 The impact that these projects have had on those involved has been life-changing. For some it has been the chance to try new things and be inspired to push themselves. For others it has been a reason to get out of bed in the morning. New friendships have been forged along the way and new skills developed.
Overall, for me it has been the amount of smiles, laughs that have accompanied the work, so many people saying: 'I didn't think I could do this' and 'Look what we have done together' and the pride in their work. Two of our textiles artists (women in their 80s) carried the banner they made around the two-mile long Ventnor Carnival this week. The quality of the work produced has been astounding.
The changes have been far reaching, traversing not just the lives of the participants but often also the project artists too. They have frequently needed to adapt and change processes to fit with participants' abilities, often discovering rich seams of participant talent along the way!
Time & Tide will leave a rich legacy for all those involved, as one man said to me:
"You forget that you're never too old to stop learning."
This is the impact at the heart of Time & Tide.
For more information on the Time & Tide project, please visit www.timeandtideproject.com