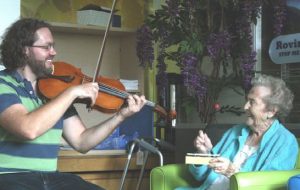 Recently I had the pleasure of attending a 'Comfortable Concert' at the beautiful Canada Water Library. It was enchantingly performed by the City of London Sinfonia (COLS). Unusually I found myself somewhere (very) roughly in the middle of the age range between babes in arms and care home residents. The concert was part of a growing number of relaxed and dementia-friendly performances, supported by guidance such as Leeds Playhouse's guide to dementia-friendly performances and the Alzheimer's Society's Becoming a dementia-friendly arts venue. It is also just one strand of COL's contribution to this field. I had a memorable visit to their participatory concert at a centre for Holocaust survivors in North London at which they performed.
In addition, the event marked the publication of a report that we have commissioned from Orchestras Live and COLS called From Bingo to Bartok. It not only summarises the evidence base for the benefits of music-making in later life but refers to initiatives up and down the country by a total of no less than 18 orchestras. And the work doesn't stop at our shores of course. One of the first events I went to was the wonderfully named 'Blow the Dust off your Trumpet' run by the Bealtaine Festival in Ireland. The magnificent Music House in Helsinki and its orchestra stream concerts into local care homes as well as visiting them as a chamber ensemble. Manchester Camerata has been undertaking training visits to Japan on music-making with people with dementia, and Music Generations in Rotterdam brings together older people and young refugees.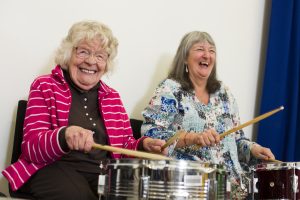 Understandably, there has been much interest in the effect that music has on people living with dementia. This has included the degree to which it can reawaken memories and be used in reminiscence work. This will be accelerated and expanded by the very welcome  Music for Dementia 2020 initiative of the Utley Foundation. The Playlist for Life project in Scotland has been going from strength to strength.
Of course outside the purely instrumental, there has been even greater interest and activity in singing and older people and in dance.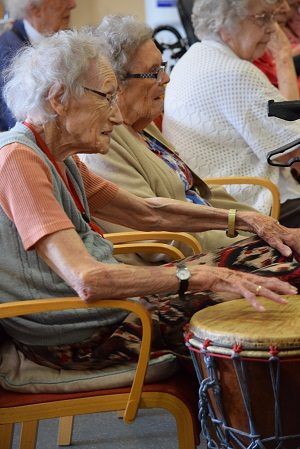 Much of this work is flourishing without the involvement of the Baring Foundation. Examples include the Royal Philharmonic's 'Strokestra' and the longstanding Music for Life programme for people living with dementia by the Wigmore Hall. But we have funded a considerable body of work and our new publication – The Treasury of Arts Activities – includes a lot of ways participatory artists can do music and singing with older people. Examples of grants from our portfolio have included the Oxford Concert Party's work in care homes and I have rarely seen a happier group of people than my visit to the Silver Ukulele Band run by the Sage Gateshead. Our collaboration with other funders has included the Oh Yeah Centre in Belfast with the Arts Council Northern Ireland and Wiltshire Music Centre with the Arts Council England (ACE).
Another notable grant with the ACE as part of our Celebrating Age programme, which combines the creation of new music and lyrics, was developed by Ideas Test in the Medway. The project marked the centenary of the First World War Armistice with a new piece of music composed by Emily Peasgood. In our Late Style programme, the great Scottish composer John MacLeod worked with Live Music Now to create new music and lyrics on themes given by care homes residents in mining communities in Wales and Scotland, including in Aberfan.
From Bingo to Bartok has shone a light on what is already happening to engage older people in music-making. Our thanks to City of London Sinfonia and Orchestras Live for taking up the baton.