This year's glorious, joyous Elixir Festival at Sadler's Wells prompted the thought that we are living through a golden age of older people's dance. There has never been greater excitement around older professional dancers and choreographers, more creative dance initiatives for older people without professional training, or support for health focused dance classes for older people.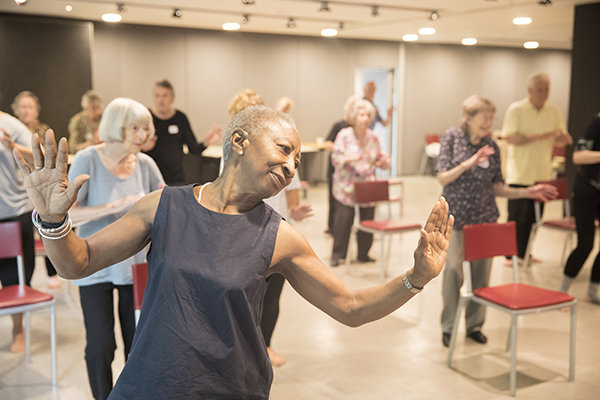 Alistair Spalding, CE of Sadler's Wells puts it perfectly: 'Elixir was born out of the desire to address the false perception of dance being the preserve of the young. Irrespective of background and age, everybody can dance – and whatever an older dancer may lack in physical prowess is more than outweighed by the interpretive nuance of their performance acquired through years of performance'.
"Whatever an older dancer may lack in physical prowess is more than outweighed by the interpretive nuance of their performance acquired through years of performance."
This was shown over and over again on the main stage at Sadler's Wells. Much of the work was not directly about ageing but the capacity of older dancers to continue to change and develop, such as the very funny The Road Awaits Us, inspired by Ionesco and including Namron, the first black dancer to be employed by a British Dance Company. The theme of pioneers also ran through Forest Revisited, by Robert Cohan who founded The Place and is now in his nineties. He brought together the some of the original company of the  London Contemporary Dance Theatre who danced his piece The Forest in 1977 with recently trained dancers.
Dance is an international language and in Amsterdam recently I met Herman Vriessendorp who has come to dance later in life through the PRA Muziektheater there and spoke proudly of his visit as part of a Dutch Company to perform at Elixir. We also talked about PRA Muziek's beautiful Simple Desires project that brings together professional youngers dances, amateur older dancers and residents in care homes.
In our Late Style programme, the Baring Foundation has funded work by captivating older dancers such as Bluecoat commission of Bisakha Sarker in Liverpool. She jokes that it is our fault that everyone now knows her age!
Elixir also demonstrates the vibrancy of the non-professional dance movement with 20 groups selected from many more applications to perform there over the weekend. Since 2010 we have supported some of this work, for instance Green Candle, Take Art, Cheshire Dance, East London Dance, and Akademi. Sadler's Wells own group, the Company of Elders, has become famous throughout the world. While welcoming the burgeoning number of new groups, this work has deep roots, for instance Green Candle in London is celebrating its thirtieth birthday this year.
As well as recognising the joy of dance and everyone's right to creativity, the health benefits of movement and dance are obvious in terms of fitness and flexibility. But attention is being given also to more specific health benefits. Aesop has championed the case for falls prevention through their Dance for Health programme. A number of companies have specialised in work with people with dementia, such as Rambert, Dance Base in Edinburgh, Scottish Ballet based in Glasgow and Dawns i Bawb (Dance for All) in Caernarfon. The Baring Foundation is supporting a major programme to expand the provision of Dance with Parkinsons, pioneered by David Leventhal of the Mark Morris Dance Company. The Dance with Parkinson's UK Network is hosted by People Dancing. The health benefits have been well recognised in the recent report by the All-Party Parliamentary Group on Arts, Well-being and Health called Creative Health.
And dance never stands still. In our joint programme on Digital Arts and Creative Ageing with the Nominet Trust we are funding the Moving Memory Dance Company to work in care homes with new pieces of kit called Digital Doris, which can project digital images into any area transforming homes into creative spaces.
The traditional view that the dancer's career can only be short-lived has provoked deep thought amongst dancers and choreographers which can be seen in changing practice. Their conclusion has been – dance on.