In June of this year, I was delighted to present the second Elixir Festival at Sadler's Wells. The festival, which we programmed for the first time in September 2014, was born out of our desire to recognise the contribution to the art form made by older dancers, and to challenge assumptions about who can dance.
Dancing, particularly as a professional endeavour, is mistakenly seen as the preserve of the young. There is a misconception that by 40 or 45, your career is over. With the festival, we want to promote discussion on whether this really has to be the case, to showcase the richness and benefits of creativity in later life, and to advocate for more work for older artists to be made and shared with wider audiences.
Dancing, particularly as a professional endeavour, is mistakenly seen as the preserve of the young.
I feel strongly that dance at its best reflects and responds to the world around us. Which is why we must mirror every aspect of it on the stage, including the diverse range of people of all ages and backgrounds that make up our society. Older dancers may not perform the same, extreme physical feats of younger dancers, such as high-powered jumps and lifts. They bring something else to the art form: wisdom, confidence, quality of experience and nuanced interpretation.
Older dancers bring something else to the art form: wisdom, confidence, quality of experience and nuanced interpretation.
The festival also aims to encourage older people to take up dancing as a way to be physically and mentally active. Our Learning & Engagement team has been running two successful initiatives for over 60s at Sadler's Wells for a long time: the Lilian Baylis Arts Club and the Company of Elders.
The Lilian Baylis Arts Club offers participants the opportunity to learn more about dance and our programme through weekly meetings with artists and performers, workshops and performance visits. Our Company of Elders, established in 1989, is living proof that it is never too late to start dancing. Its members are senior citizens from all walks of life, who gather every Friday to rehearse and work with professional dance artists. They have danced works made for them in a variety of styles and performed not just on our stage, but around the world, including at the Venice Biennale, Italy, in Austria, the Netherlands, Sweden and even Japan.
We have built a reputation for high-quality programmes for older dancers and participants. Elixir was taking our commitment to explore and promote the benefits of dance in later life further.
This year's festival featured four days of performances, workshops and events. It opened on our main stage with KnowBody II, a mixed bill of new and existing work made and performed by older artists. Co-directors of New York's Big Dance Theatre Annie-B Parson and Paul Lazar, Robert Cohan and Martin Welton, and Shobana Jeyasingh created new works for the evening.
Parson and Lazar choreographed a piece for the Elixir Ensemble, a group of former dancers ranging in age from the mid-50s to the late-80s. Cohan and Welton collaborated on Forest Revisited, a reimagining of the former's 1977 iconic work Forest. Their cast included five former dancers of London Contemporary Dance Theatre and five young alumni of the National Youth Dance Company, who are now all in full-time dance training. The Company of Elders performed the piece by Jeyasingh.
The KnowBody II programme also featured short works by renowned choreographers such as Mats Ek, William Forsythe and former Tanztheater Wuppertal Pina Bausch Company dancer Pascal Merighi.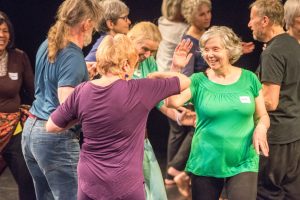 The Lilian Baylis Studio hosted the Elixir Extracts programme, showcasing 20 non-professional older adult dance groups from the UK and Europe across two evenings. Reflecting the diversity of the work of older dance artists, it included performances by Sadler's Wells' outreach community dance group Silver Routes, as well as from the Netherland's Holland Dance and Sweden's Skånes Dansteater.
The festival was delivered as part of a European-wide partnership called Dance On, Dream On, Pass On (DOPODO), which Sadler's Wells is a member of and is funded by Creative Europe, a European Union programme supporting the cultural sector. The purpose of the DOPODO initiative is to challenge preconceived notions about age and promote a model of sustainable career and audience participation that values older people on stage and, generally, in society. Through the partnership, we were able to present Berlin-based dance company Dance On Ensemble in 7 Dialogues, an evening of experimental work by composer Matteo Fargion, on the last two days of the festival.
Alongside the performances, the Elixir Conference provided a forum to unpack the themes of the festival. A number of international speakers creating and facilitating work connected to lifelong creativity came together to share ideas about the value of older dancers, the role of heritage in contemporary dance and changing perceptions of age in dance. Martin Welton and Robert Cohan, founding artistic director of The Place, spoke about their production Forest Revisited and how they worked with young dancers from National Youth Dance Company to pass on knowledge from one generation to the next. The Baring Foundation's director David Cutler chaired a panel with members of the Greater London Authority and All Change Arts, discussing the importance of dance in addressing the wellbeing needs of an aging population.
The Elixir Festival was a true celebration of the valuable contribution and exceptional work of older dance artists, which offered a wide audience the chance to see great performances and advanced our collective discussion on how we can ensure dance plays an even bigger part in ensuring people's wellbeing. My sincere thanks go to the Baring Foundation for its ongoing support of Elixir. The festival could not have happened without its enthusiastic and generous backing.
With thanks to Alistair Spalding CBE, Artistic Director and Chief Executive, Sadler's Wells
Photo of Alistair: © and courtesy of Cameron Slater.