Our Arts and Older People's programme is rich in examples of the use of creative writing and spoken word techniques, as is creative ageing more generally. I sometimes wonder if they are rather hidden treasures and this blog is intended to make them sparkle more brightly.
There has been a long interest in this approach by artists. Perhaps this is due to the links with oral history and life-story work, as used for example by Age Exchange. Their use of reminiscence arts has been the subject of a very positive scientific evaluation. However there has also been a reaction against this by some and a call for more creative work in the moment without a reliance on memory; the Timeslips technique, for example, from the USA which is increasingly used in the UK, for instance by Equal Arts. A number of poets have invested their talents in working with people living with dementia including John Killick in the UK and Gary Glazner in the USA.
A major early success in our funding was the Living Voices project run by the Scottish Poetry Centre with their next door neighbour the Storytelling Centre, described in its evaluation as 'drawing on the rich culture of spoken word in Scotland, especially the participative form of the cèilidh'. The 18-month pilot took place in care settings across Aberdeen, South Ayrshire and Perth and Kinross. Storytellers, poets and musicians led monthly sessions with small groups of five to 14 residents. The second stage of the project has been a training programme for care workers and now librarians. (The Foundation also funded the Scottish Poetry Library to commission three poets to reflect on ageing which became a wonderful volume called Second Wind.)
Our Celebrating Age fund with the Arts Council England which has funded 32 grants for arts organisations to work in partnership with older people's organisations is strewn with great examples of spoken word and creative writing projects. Here are just a few:
There is of course an enormous amount happening outside our funding. Susanna Howard is an admired practitioner who has set up Living Words. She has created a technique of sculpting the words used by people living with dementia into poetry which is then collected into Living Words Books. This technique is now being taken to the National Theatre of Taiwan.
A major development has been the work of The Reader, originating in Liverpool, which has been undertaking shared reading sessions in scores care homes, along with other venues, and has recently been given a major boost with a grant for this purpose of £850,0000 pounds from the Big Lottery.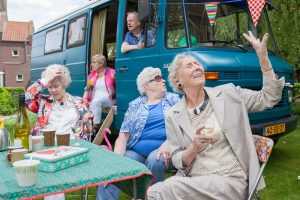 There are a number of wonderful initiatives in the Netherlands which I would love to see take root in the UK. Principal among these is the 'Groot Letter Festival' (or Big Type Festival) run by the literary agency Wintertuin and Vitalis, a very large care home provider. A festival in Eindhoven in 2017 invited famous writers to spend the day at the care home with music and other entertainments on offer. A second edition is due to take place in Rotterdam in 2019.
There are other elements to the work of Wintertuin and Vitalis partnership. 'The House of Stories' is a series of creative writing classes with care home residents – billed as 'Prose instead of Prozac' –  which happens over the course of a year. It is a talent development initiative for writers over 80 with young mentors. This leads to books which are produced to professional standards and the authors are given training on how to present their work. Then 'Q & A with the Grey' sees older people set up their stall at Literary Festivals and people can ask them questions about getting older. Finally the 'Writer in The House' programme places writers literally in residence for a month in care homes.
Let's take a leaf from their book and create an exciting next wave of work in the UK.