ArtatWork, an arts organisation in Norfolk with a focus on wellbeing, is the brainchild of artists Holly Sandiford and Melanie Tilford. Their Slippers to Stilettos project worked with women with mental health problems to explore the history of the shoe industry in Norwich – with beautiful and creative results. 
ArtatWork are featured in our 2021 report, Creatively Minded and Heritage!
"Combining the arts with local heritage is especially effective in terms of improving mental health and creating a sense of belonging."
ArtatWork in Norfolk combines the arts with heritage and nature in both longer-term projects and one-off sessions. It delivers training in arts and wellbeing to artists and organisations. As a working-class and women-led organisation, we are well placed to understand the challenges faced by the local community. Project participants number around 10-12 (with 12 being the maximum at their indoor venue due to current restrictions) and they pay £3 each per session.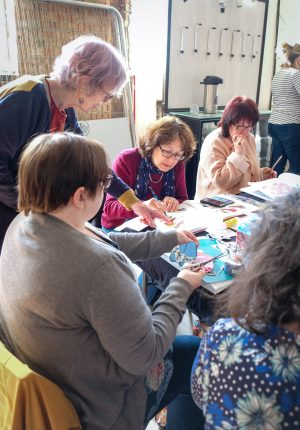 ArtatWork uses the arts to improve mental health and wellbeing, working with a wide range of people and communities. We founded ArtatWork because of a deep belief in the capacity of art, heritage, and community to improve mental health. After studying Art and Wellbeing degrees together, we knew that with our combined experience, skills, and passion we could create an organisation that truly reflected our values. We find that refocusing people's attention towards creativity is a powerful tool during challenging times. Being involved in creative projects can both help participants maintain an equilibrium and provides opportunities to move forward from difficult thoughts. Combining the arts with local heritage is especially effective in terms of improving mental health and creating a sense of belonging. Using the visual as a heritage research tool acts as a bridge for those less confident with traditional text-based research. Encouraging mutual care and support between participants is also important to ArtatWork and projects are designed to build independence over co-dependence. The strength lies not in ArtatWork supporting participants, but in supporting relationships between participants which have the potential to last a lifetime.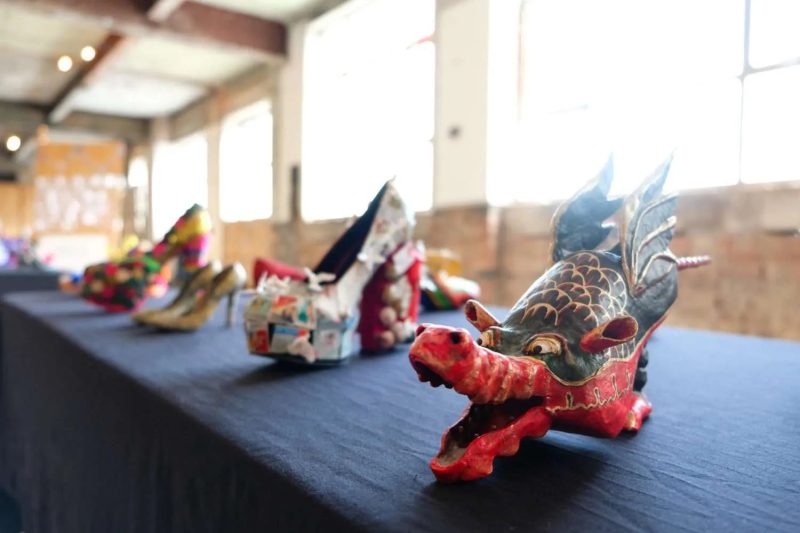 "I value the group so much, it has helped to keep and extend friendships. I feel more comfortable in this group than I do with my friends, people who I've known for years."
Co-production is central to ArtatWork's ethos. One example is a six-month project called Slippers to Stilettos that worked with women with mental health issues to creatively research Norwich's shoe industry. The women organised and invigilated an exhibition of the beautiful visual research they created during the project. The aim was to boost wellbeing and for the women to bring local heritage to life for others to enjoy and understand. It also challenged negative narratives surrounding mental health and enabled participants to contribute to and feel valued by their community.
Both quantitative and qualitative evaluation data show a significant improvement to wellbeing for participants, who were encouraged to take a leap and try experiences they might otherwise have considered too 'highbrow' or 'not for them'. Incorporating art into the project helped many make the transition, as did choosing a topic likely to spark interest – shoes being a perfect example! Both organisers and participants found that after working on the project they had gained research skills and looked at their familiar city in new ways, making them feel more integrated into their community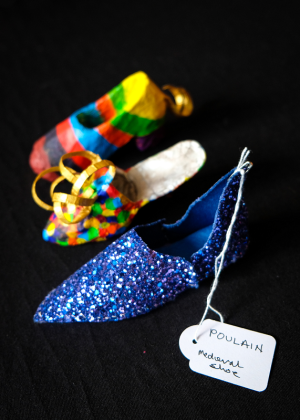 Being practical and community-based, Covid-19 had a big impact on ArtatWork, though the organisation learned to adapt quickly. The limitations posed invited us to consider new ways of reaching people in their community. Sessions were delivered online, and new arts and walking resources were created that needed limited materials. ArtatWork also co-produced a zine, 'Art for Wellbeing', with a core group of ten women. This was distributed physically to 50 women with mental health issues alongside an art pack and was downloaded over 2,000 times.
Running ArtatWork has been a process of constant adaptation and learning. The most important thing we have learned is to nurture our own wellbeing; new ways of working such as having meetings whilst walking or in the gym have supported this. We also make time for developing our artistic practices, which improves wellbeing and provides ideas and energy to share with and inspire participants. Working with an inclusive, participant-led ethos can mean the line between the professional and the personal is more challenging to negotiate. However, regular reflective dialogue makes this negotiation possible and ultimately creates a practice that is both rich and innovative.
"Slippers to Stilettos is an exemplary heritage and wellbeing pilot … Members of the group have contributed to the heritage of Norwich by making oral histories, through personal and group research, and by creating beautiful artwork that illuminates the story of the city's shoe industry in new imaginative ways."

Laura Drysdale, Restoration Trust