Highland Print Studio is an open-access visual arts workshop with facilities for printmaking, including techniques such as etching, linocut, lithography and screenprint. The workshop is based in Inverness; however we work with schools and community groups across the Highlands. Studio users and class participants come from across the north of Scotland, other parts of the country and abroad and range from complete beginners to professional artists.
Wise Guys started in 2012 with a pilot programme of weekly printmaking classes for older men. The project was in response to evidence that older men are significantly underrepresented when it comes to participation in creative activity. It was also a reaction to the growing body of research showing that older men were susceptible to experiencing loneliness and isolation and the negative impact on wellbeing this brings. It was thought that printmaking, with its tools, equipment and processes, may be a road into creativity that would help men to engage. Getting word of the opportunity out to potential participants was initially a challenge. Circulating information via organisations and networks for older people had proved fruitless, simply because older men, and their general reluctance to join things, were not linked into this network. Also, the Men's Shed movement was yet to reach the area and to develop the level of profile it has today. Key to reaching the target audience was a feature in the local newspaper putting a call-out for older men. We knew we were good to go when two men in bunnets came in off the street and declared they wanted to be Wise Guys! Within no time the courses were full and a waiting list had formed.
We knew we were good to go when two men in bunnets came in off the street and declared they wanted to be Wise Guys!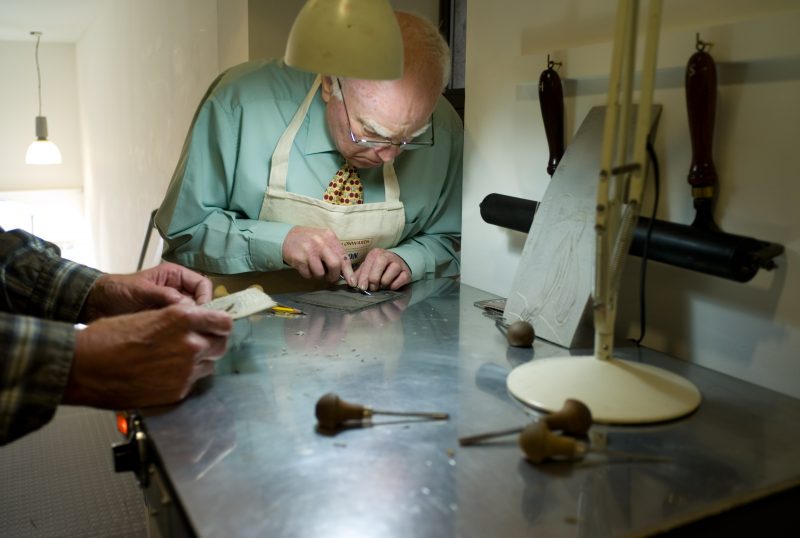 Highland Print Studio was keen that the opportunity went to participants who had never engaged with the visual arts. The organization recognises that confidence is the great hidden barrier to participation in the arts and that there is still within the general public a sense of exclusivity. So, although this was a project about encouraging older men to engage, it was also about reaching those men who had never crossed that barrier. This message was central in promoting the opportunity. In some cases, it still took a significant nudge from wives and daughters familiar with Highland Print Studio to get them through the door! Although we had set ourselves a greater challenge, this paid off and that early cohort of Wise Guys were an eclectic bunch and included a retired anaesthetist, farmer, car salesman, exciseman, welfare officer, telly engineer and Free Church minister. As a pilot project, obviously we had no idea how successful it would be. However, as the weeks progressed, those tensions turned to relief and admiration as participants embraced the challenge of overcoming their own fears of the unknown, not only in learning new technical skills, but the biggest challenge of all, being creative.
Participants embraced the challenge of overcoming their own fears of the unknown.
The weekly classes had a real sense of being a social gathering. Wednesday mornings were filled with the noise of chatter, munching of biscuits, slurping of tea and the shared endeavour of creative expression.
A social objective was there from the start. Social evenings were part of the programme and these included a talk by a professional artist, beer, wine and nibbles. We had to warn our artists to prepare for a barrage of questions! The guest artists' work ranged from contemporary printmaking to large-scale installations and all were received with genuine interest.
Highland Print Studio has continued to work with this group as and when funding is available, running both beginners' classes and also intermediate classes that enable current Wise Guys to continue to develop their creative skills. Original participants are accessing the Studio just like any other self-reliant studio user. There is a tendency for Wise Guys to come in en masse, but that's tribute to the social impact of the project. Over the years, Wise Guys have acted as ambassadors for the project, giving talks at various events and featuring on BBC television and radio. One has set up a Men's Shed in his village and in 2019, they had an exhibition of their artwork at the Scottish Parliament.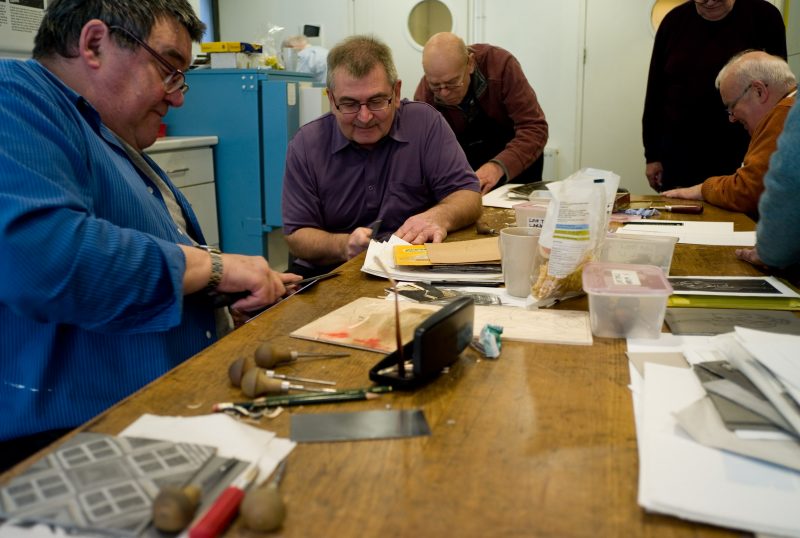 We have enabled the Wise Guys to engage with something that it occasionally still bemuses them to be doing and in return they enrich our Highland Print Studio community. We continue to encourage their creative development and in return we exploit their woodworking and electrical skills shamelessly!
Our vision for the project is to expand this success out to a wider community. As successful as the project has been, we are aware that we are not reaching men from the most challenging socio-economic areas – this is our next challenge. We have, however, numerous mentors who can share their experience of being Wise Guys.
The Wise Guys programme has given me entirely new skills and a whole new direction to follow. There's a great team at Highland Print Studio and I've made many new and valued friends.

Richard 'Jacko' Mackenzie, Wise Guy