I have recently had the pleasure and privilege of going on a whirlwind tour of Taiwan (not to mention the earthquakes!) – the third leg of a trio of exchanges with the British Council supported by the Baring Foundation on the theme of arts and older people. Given that Taiwan is predicted to become a super ageing society in 2025 (long before the UK), with 1 in 5 people over the age of 65, this was indeed a timely trip. My comrades in creative ageing were Phil Cave, Arts Council England,  Anne Gallacher from Luminate Scotland, Joce Giles from Sadlers Wells and Ed Watts from the Whitworth Gallery, Manchester.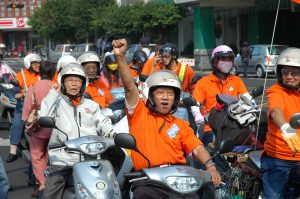 Taiwan has some truly inspiring organisations for older people. In Taichung we visited the HQ of a national organisation, the Hondao Senior Citizens Welfare Foundation. It has three streams of work around 'filial piety', 'community care' and one called 'dreams never grow old'. It has over 400 staff, 2,000 volunteers and can be found across the island. Everything they do seems to combine flair with a sense of fun. The 'Go Grandriders Project' is a 13-day motorcycle road trip which has been made into a much admired documentary film. There are a wide range of 'Bulao' or 'Never Old' projects as part of the 'dreams' strand:
a 'Never Old Band' where objects are recycled into musical instruments, as well as using conventional musical instruments. This has grown to 1,200 members in 47 bands;
the 'Senior on Broadway' competition climaxes with the performance of ten groups on Taipei's equivalent of the O2 Arena, broadcast to audiences of millions;
the Bulao Love project asked fashion photographers to take wedding photographs where there have never been any, which are then exhibited and put into a magazine;
initiatives don't always involve the arts. There's a Bulao Baseball League and a Bulao Soldier project involving spending a day with the Ministry of Defence reliving conscription.
Our visit was rounded off by a delicious lunch in the centre's restaurant, staffed by older people who used produce from the garden and then made very persuasive sales people for the stylish Bulao merchandise in their shop. I bought a Bulao snood in case I become a Grandrider!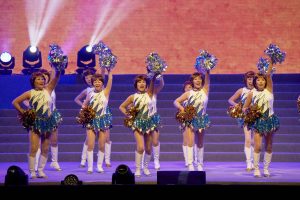 Equally impressive was the vast Senior Citizen's Centre run by the Social Affairs Bureau of Kaohsiung City. Kaohsiung is a major city, on the scale of Birmingham. It boasts 232 community care centres, 59 senior citizen centres and 227 elderly learning centres. We were made welcome at the centre by an army  of 'heritage ambassadors', older people practising a range of arts including traditional Chinese calligraphy, ink painting and storytelling, Taiwanese opera and drumming, among much else.  There are almost 200 heritage ambassadors who offer their services mainly to schools and to community centres.
There is an equal enthusiasm in the arts sector. Our forum in Taipei engaged the Chair of the equivalent of the Arts Council and a packed audience. In Taichung the National Museum of Fine Arts  has intergenerational groups, services for isolated older people, and dementia-friendly tours. There is a national network for Age-friendly Museums which offer similar services to older Taiwanese. In Kaohsiung, we toured the imaginative sea containers festival (making artistic use of its status as a port) which looked at ageing under the title of 'Silver Linings' and included a beautiful fashion show with a 90-year-old model living with dementia. The main arts museum of the same city was hosting the NewOld design show touring from the Design Museum in London. We met a host of designers and young entrepreneurs wanting to fuse design, disability, arts and ageing.
As well as thanking our Taiwanese hosts for the warm reception we received, I want to end by thanking the British Council Arts teams in Japan, Korea and Taiwan. In each case they have shown deep expertise, great consideration and have organised these trips flawlessly.