I recently joined a trip for British practitioners in creative ageing to South Korea. It was part-funded by the Baring Foundation and brilliantly organised by the British Council arts team in their Seoul office. It was fascinating, a great privilege – and very cold. It was my first trip to South Korea and I could not recommend too highly the beautiful cites of Seoul and Busan.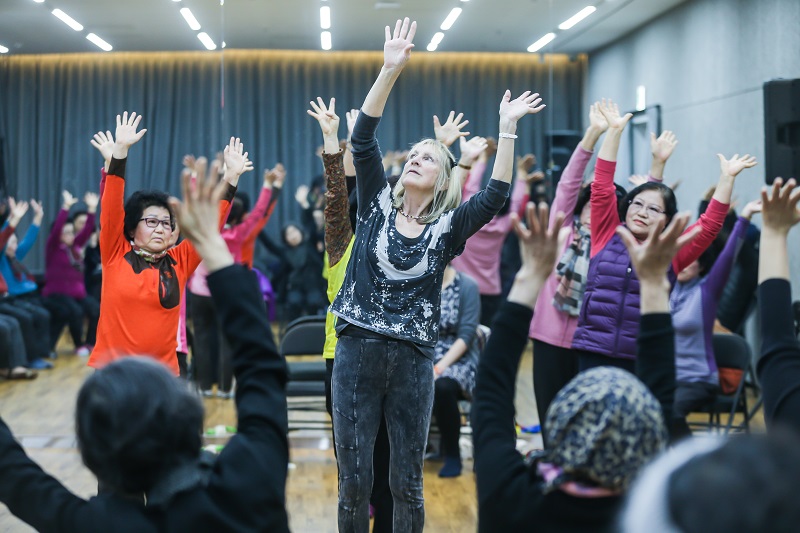 The trip reminded me that ageing is simultaneously universal and culturally specific. Korea is a 'super-ageing' society predicted to overtake Japan in the longevity league. Its oldest citizens have lived through a torrid century of Japanese occupation, territorial division, the Korean War (killing over 3 million people), military dictatorship and an astonishingly rapid period of industrialisation and economic success. We were told that there is a stereotype for older Koreans, especially men, being called 'condae' – aggressive and uncompromising, though with a disarming penchant for dancing in the aisle on tour buses! Our discussions hinted at generational tensions between the young and the old. And led to the observation that older Koreans had lived hard lives of work and caring for families and were less inclined to value arts in later life.
Another less familiar feature of South Korea is the need to find employment in your fifties because being made redundant in the private sector is so common. This had resulted in a typically forward thinking and imaginative response, a number of campuses for the 50 Plus established by the city government in Seoul. These are centres of innovation for middle-aged people who would decide what courses and opportunities were put on, including the arts. Our first conference was held there in a packed room. The British Council was delighted that this was the most popular conference they could recall.
Another institution unfamiliar to a British delegation was the Korean Arts and Culture Education Service. Established in 2006 to place 'teaching artists' in schools and running in 17 local centres across the country, it has branched out to placing teaching artists in organisations serving older people. This resulted in a spirited Korea's Got Talent type show of older people called the Cheungchun Festival which we attended when we arrived. Boy, did they like coordinated dressing up!
Several of the many case studies we saw felt more recognisable but of an incredibly high standard.
In Seoul we met the artist Mee-Wha Lee who has set up Store N in the Anyang 8 dong district. This initiative has focussed on working with older residents. The very inspiring work included an older watchmaker turning his hand to exquisite creations for children, women embroidering pieces entitled 'the last clothes I will wear' for their coffins, full of personal meaning, and a challenging piece where sex workers returned to the site of an American military base.
And I don't think any of us will ever forget our trip one afternoon to IMAGO in Busan. It is a beautiful community arts centre for older people up a winding road with gorgeous views of the city and the port. Busan changed from a small town to Korea's second city with a population of 3.5 million, partly because it was the furthest point from the Korean War raging in the early fifties. So many of the laughing and enthusiastic older people we met there were refugees from that war. They are responding creatively to that history with the facilitation of the poet and story-teller, Jounghi Hwang. This has resulted in a puppet play, a beautifully designed children's story book, intergenerational drama and a splendidly bonkers specially designed version of Monopoly played with giant dice. And that's not to mention the Confucian study classes, or kite-making, or trips to the countryside. We finished the afternoon believing that IMAGO was a little glimpse of heaven.
We have much to learn from Korea.
David Cutler.
Also in the UK delegation were: Alice Thwaite (Equal Arts), Carol Rogers (Liverpool Museums), Emma Robinson (Age Cymru), Kate Duncan (City Arts), Penny Allen (Courtyard Hereford), Susan Langford (Magic Me), Zac Hulstrom (City of London Sinfonia), Sebastian Crutch (UCL) and Diane Amans, dance practitioner and author.