Recently I had the privilege of visiting Helsinki on a short research trip to hear about good practice in two fields: creative ageing (our current arts programme) and arts and mental health (our upcoming programme). The Finnish excel in both.
We have had contact with colleagues in Finland already (helped by everyone speaking perfect English!) and have written about this (Colder, Older and Wiser and in a blog), so I was aware of some important programmes of arts with older people including the national festival in October, Armas, and the arts network of 13 age-friendly cities called Aili, but the Finns aren't standing still.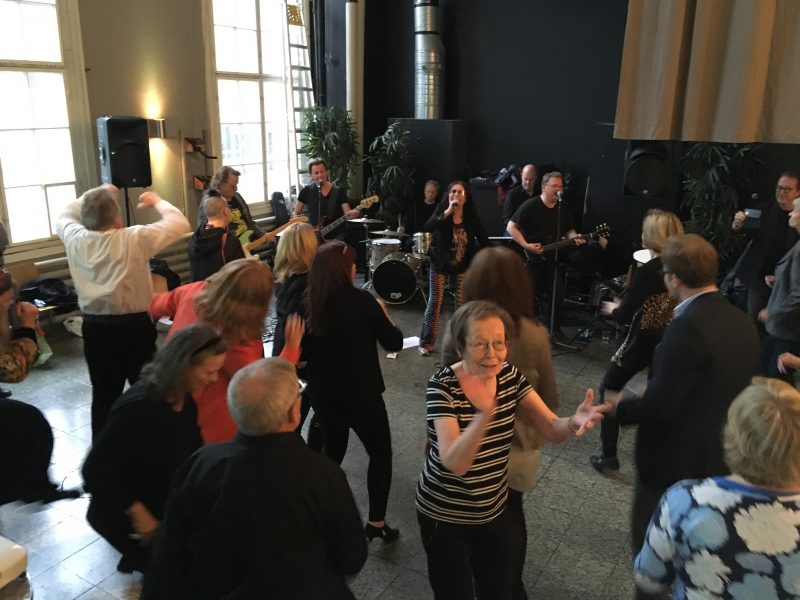 The Baring Foundation has had a project fund on digital arts and older people so I was fascinated to hear about a new project in Helsinki, 'At Home Today'. A thousand people in receipt of home care from the local authority for the last five years have been provided with specialised digital tablets loaded with health and social care information. 'At Home Today' has more recently added tailored arts offers for isolated older people. You can remotely join a small interactive group with a musician and request songs and performances, or a storyteller, or hear a live reading from your favourite book. This is just one aspect of a series of projects by the City of Helsinki to continue to develop creative ageing, including through the 37 local libraries and their outreach services, care homes and on older people's wards in hospitals. (If you are in Helsinki don't miss Oodi*, the new central library, one of the most beautiful buildings in the country.) The City wants its work to be data driven when it comes to the long-term care of older people, as well as imaginative, and is using the international Residents Assessment Instrument.
Turning to arts and mental health, the high point of my visit had to be a trip to the Wellness Centre (perhaps a pun as Lapinlahden Lähde, is named after a well in the grounds). In the 1840s the Russian Czar who ruled Finland commissioned what would have been called a mental asylum here. (This was part of a wave of such buildings across Europe at the time.) It was a spectacular and beautiful building in a gorgeous park next to the sea. It continued to operate until 2008 and a campaign by local NGOs meant that a few years ago it reopened as a centre for arts and mental health with eight staff. It runs a series of weekly workshops from visual arts to board games, a popular community café and a packed programme of 200 events per year, with a strong emphasis on the healing qualities of nature and the environment as well as on arts and culture.
There is much else happening in Finland on arts and mental health though. One of the three major associations and national service providers for mental health, MIELI, has initiated a Mental Health and the Arts Week each May (borrowed from the Scottish Mental Health Arts and Film Festival). It involves round half of MIELI's 56 local branches in some way.  I visited the stylish arts and health centre, Taiteen Sulattamo (perhaps translated as The Art Forge), in a converted grain store and heard about a number of projects there including a theatre group for people with experience of mental health issues and its annual public performance. Kukunori, a think and do tank for mental health has set up eight pilot Culture Houses using the arts as the central means for recovery for young people up to the age of 35 with a strong emphasis on peer support.
As I flew home several things struck me. Firstly the decency of Finnish society as expressed through their laws and social provision. For instance I had not seen a single homeless person despite going to some areas I was told were poorer. Interlinked to this, that work on socially progressive arts is much more a partnership in Finland between arts organisations and central and local government than it is in the UK, not least because of how much better funded local government there is. This is underlined by legislation in the Municipal Cultural Activities Act of 2019.
And how lucky I am in my two 'fixers' for my trips: the hugely talented Raisa Karttunen based at Kaapelitehdas. and Jenni Räsänen who leads on culture in health and social affairs for the City of Helsinki.