We are in desperate need of more long-term projects like Portugal Prints that provide consistent therapeutic services that foster relationships, development, and connections rather than seeking 'a quick fix'.
Our lives have been turned upside down in the last two years as a result of the COVID-19 pandemic. We have faced high levels of uncertainty and change, which has transformed the way we work, learn, and interact with each other. We are only just now starting to adapt to our 'new normal', holding our breath and hoping for certainty.
Unsurprisingly, the crisis has also triggered and shone a spotlight on a wave of mental health problems – a February 2021 report by the BBC indicated significant increases in mental health diagnoses.
To be given a mental health diagnosis represents a bereavement: a loss of the life you had or expected to have, a loss of the person you thought you were or might become. After experiencing and being given a mental health diagnosis, people are often left feeling disconnected and isolated from themselves, their family and friends, and society.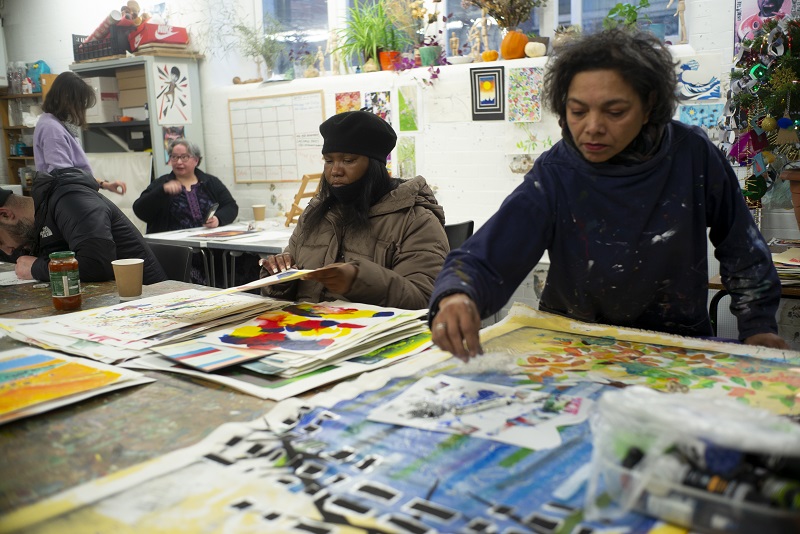 At Portugal Prints, we have been working with adults experiencing mental health difficulties since 1979 through art-making. The project was set up by occupational therapist Gaynor Reynolds in Portugal Street, London with the support of what was then the Westminster Association for Mental Health. Portugal Prints aimed to provide therapeutic support, employment, and training to people living in London suffering from severe and enduring mental health problems. The project was unique for its time as it embraced an integrative model of rehabilitation, maximising the benefits of both the normalisation and therapeutic models developed during the 1970s.
The project is now part of Mind in Brent, Wandsworth, and Westminster and has survived years of mental health services neglect, economic cuts, and mental health policies focused on uni-directional mental health models of care where 'one size fits all'.
During these years, Portugal Prints has been challenging the mental health trends of the time and economic cuts and has kept believing that a long engagement with the arts is a powerful tool for building resilience, personal growth, connection, and nurturing meaningful relationships.
At the centre of this model is the key working relationship that our artists establish with staff and whereby staff become enablers rather than teachers. The key working space is needs-led and framed in a therapeutic context whereby the emotional, practical, and artistic needs of the artists are explored and addressed in a safe and friendly environment. The art-making process is crucial in this relationship encouraging and facilitating ownership and a sense of belonging. The long-term support provides a secure space for PP artists to develop a connection with themselves and our artistic community and establish links beyond our services.
In doing this, we have also recognised the importance of developing strong partnerships with different art galleries and museums across London, opening up these art institutions to those struggling with their mental health and who often have felt isolated, stigmatised, and excluded from the art world and society.
Feeling part of our artistic community, making friends, and being accepted as you are with your ups and downs, as well as creating art and enjoying it, is, in our opinion, essential. It opens the door to a new life, a life that perhaps is different from what you expected but a life that does not have limits and fosters hope and self-belief.
Today, Portugal Prints' artists work in a shared and supported studio in Camden where they are recognised for their art and creativity rather than their mental health diagnoses. We run 8 art sessions a week and have 40 artists attending the project. Some of these artists have been part of Portugal Prints for a long time and others have just joined the project recently, but what really matters is that putting the arts at the centre of our lives and relationships gives us permission to learn and grow at our own pace from each other's experiences and discomfort.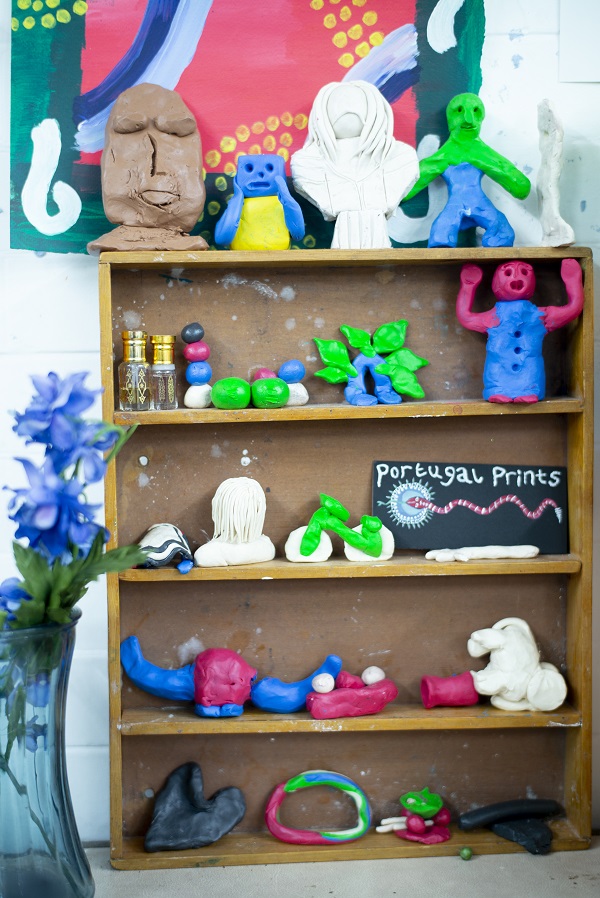 In light of the level of new mental health cases amongst both children and adults due to the trauma of living through the pandemic, I urge local authorities and funders alike to venture their resources for a wider range of treatments that reflects the diversity and needs of people experiencing mental health difficulties from mild to acute.
We are in desperate need of more long-term projects like Portugal Prints that provide consistent therapeutic services that foster relationships, development, and connections rather than seeking 'a quick fix'.
You can learn more about Portugal Prints here.
Marta is Senior Creative Facilitator at Portugal Prints.
Portrait of Marta is by PP artist, Melissa Nash. All photos by David Bebber.
Are you looking for a studio like Portugal Prints? You can find a list of some in our directory of arts and mental health organisations (page 31)