Open Arts is a community-based arts project working across Essex, run as one of the charities managed within the Essex Partnership University NHS Foundation Trust.
We help people improve and maintain their own mental health and wellbeing through a focus on creative learning, social inclusion and self-expression rather than mental health. We offer 12-week courses of 2-hour taster sessions in visual arts. We also offer drama, digital arts and photography courses that help develop new skills and confidence. But most importantly, we offer a positive and productive environment that has been part of many people's recovery. Follow-up studio placements are available for participants who want to pursue their creative activity more independently with professional support.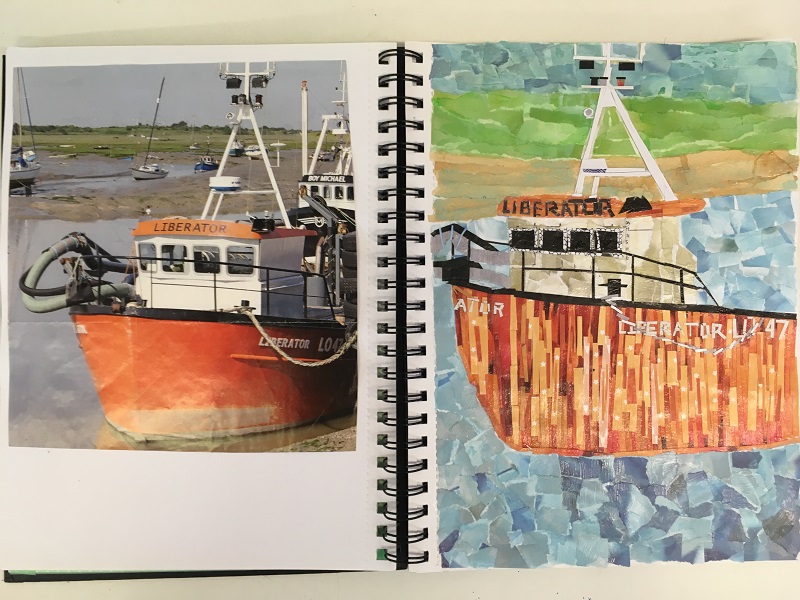 Participants are referred by a mental health worker or they can self-refer, as the project is advertised publicly too. Courses are run by local artists with support from volunteers, many of whom are themselves course graduates. They take place in community venues and materials are provided, including a sketchbook for personal use. A gallery visit is arranged for each course, opportunities to exhibit are actively pursued, and in previous years optional accreditation was offered in partnership with Gateway Qualifications.
If I feel bad, I think I've got art tomorrow. I look forward to it.
It's changed my life completely, I was sat indoors on the settee just vegetating.

Open Arts members
Challenges
An initial challenge was the need to persuade mental health workers of the value of participatory arts and to enable artists to feel confident in working with people with mental health problems. Partnering with a local university to carry out a service evaluation was helpful in demonstrating the benefits, but most powerful was the progress towards recovery workers saw in people they referred. For artists, commissioning Mental Health First Aid training boosted confidence, alongside developing clear protocols for risk assessment and support. Twice-yearly workshops bringing the two groups together also helps overcome barriers.
Funding is of course another perpetual challenge and key here has been adaptability, for example, downsizing or suspending elements of the service as funding has ebbed and flowed.
Programme highlights
Our studio was established in partnership with the Association for Cultural Advancement through Visual Art (ACAVA) and Essex County Council and is based at a former fire station which has been converted into an arts and culture facility for local artists and community groups. Here, Open Arts participants and volunteers are offered the opportunity to develop their individual arts practice over a longer period of time, with the support of local arts practitioners. Studio members are offered use of the facilities for two to six hours each week, initially for six months although this can be extended depending on take-up and needs. A studio manager provides professional support with assistance from a volunteer. Members use the opportunity to explore techniques and media they enjoyed on their course in more depth, and the regular sessions mean a real camaraderie develops.
I am not able to work but I feel maybe I am not bad at this. It gives me something inside which means it is worth being me. I run myself down, now I can say 'I can do this'.

Open Arts member
Members also have the option to sell their artwork, take part in open day events, exhibitions, local art trails and competitions. Over the years members whose placement is coming to an end have gone on to establish their own art groups independently of Open Arts, paying a small fee for use of the facilities.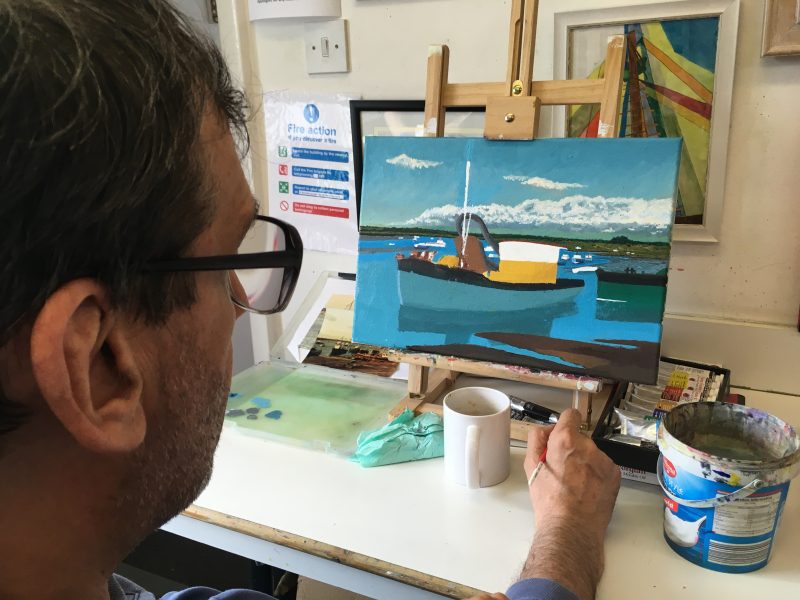 In addition to running our own courses, we also seek out opportunities to deliver courses beyond visual arts in partnership with specialist organisations. Examples include a percussion course run with Eastern Arts, culminating in a recording of the group's work, and drama groups with the Workers' Educational Association and DMB Arts which produced a DVD. We deliver digital art courses in partnership with Metal, while textile sessions in partnership with Create98 created silk and batik flags used to promote Open Arts at art exhibitions and open days. Each organisation's role is to provide the lead artist to facilitate the courses alongside an Open Arts support artist and volunteers.
Find out more about Open Arts:
Twitter: @openartsessex
Facebook: @openartsessex