Radiate Arts CIC specialises in delivering creative workshops and experiences to create positive change for people living with mental health problems, and works in Chester, Mid and North Wales. The new Connecting Clywedog project will involve community groups in the creation of a sculpture trail in the beautiful area around the Clywedog dam. Veterans have been the first community group to start stone-carving for the trail with the 'Working with the hard stuff' project.
In July 2020, Radiate Arts established a Creative Hub at Llyn Clywedog, Mid Wales, inspired by the unique beauty of the area: the huge 1960s brutalist Clywedog Dam is juxtaposed with the ancient landscape of green valleys, Hafren forest and the remote, rugged atmosphere of the Cambrian Mountains, with the source of the River Severn flowing through the Victorian ruins of Bryntail Lead Mines below. This landscape immediately suggested itself as an amazing catalyst to ignite potentially limitless creativity, and an opportunity to engage with local architectural and landscape heritage.
The new project, 'Cysylltu Clywedog / Connecting Clywedog' is a community-developed sculpture space which aims to get people outdoors and being creative in the inspirational environment around Llyn Clywedog. It is natural progression from an initial programme of stone carving workshops, and a vision the organisation had right from the beginning. Radiate Arts is collaborating with organisations like Hafren Dyfrdwy, Cadw, Montgomeryshire Wildlife Trust, local charities and community groups, artists and creatives who share a similar vision and commitment to an equal partnership approach of improving wellbeing for all. It connects closely with grassroots organisations and their members, collaborating with larger organisations in order to install and maintain an outdoor sculpture space with care and respect for the environment.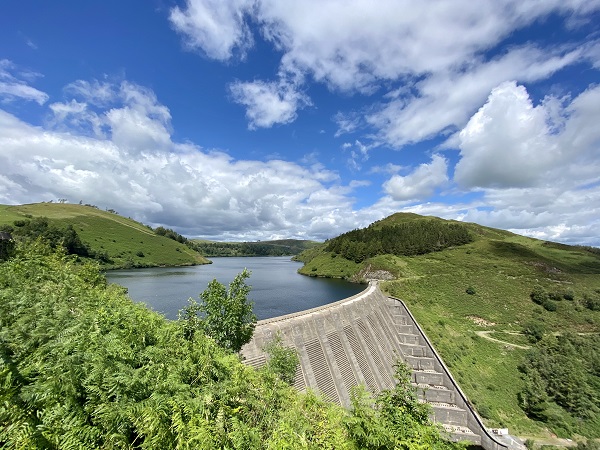 The sculptures will be a combination of commissioned pieces from local artists based on collaborative events and workshops involving members of local communities, and individual or collaborative sculptures made by local people at accessible workshops with the guidance of experienced artists. Encouraging people to go outdoors for the benefits to mental health and wellbeing, this landscape of ancient walks and woodland will be punctuated by sculptures that will stand in contrast with the established and imposing human imprint of the dam. It will be a celebration of connection and expression, an opportunity to adjust positively to the negative effects of social isolation brought on by the Covid-19 pandemic, and create a sense of place that is uniquely Clywedog by delivering projects that will promote biodiversity, natural habitats and sustainable living.
A place that empowers people to value their world, their environment and themselves.

Glenn Morris, Artist
The very first community project at Llyn Clywedog, 'Working with the Hard Stuff', is a programme of stone carving courses for Armed Forces veterans who have been referred by Change Step, a charity that offers effective support for veterans in Wales, enabling them to access vital support services and tackle serious stress and related issues. They are accompanied by a peer mentor who shares the same lived experience. Artist tutor Glenn Morris was chosen specifically for this role because of his experience and knowledge of stone carving (an example of his work is displayed in Dyffryn National Trust Gardens in Cardiff, entitled 'Lost Comrades') and also because of his previous experience of working with Armed Forces Veterans on vocational projects to help them get back into work.
It's been amazing, therapeutic, like 3D colouring in! I have been really surprised at what I've got out of this and (stone carving) is a new-found passion in me now.
BP (veteran)
'Working with The Hard Stuff' has enabled people to discover or re-ignite a buried creativity, a way of expression that isn't reliant on verbal communication, that can be found by connecting with natural heritage and translating this into stone. It has strengthened their self-esteem and helped them on their path of recovery, gaining new tools to navigate their way through civilian life. As these sessions happened during the pandemic, numbers were reduced due to maintaining social distancing within the groups. As of April 2021, the project has delivered 23 workshops, with between three and six participants per workshop. A total of 12 people have come along to the workshops, with three of them attending every workshop, progressing their knowledge of stone carving over nine months, with a huge amount of skills and confidence development. Two of these people will be progressing to volunteer workshop assistants in year two (subject to funding).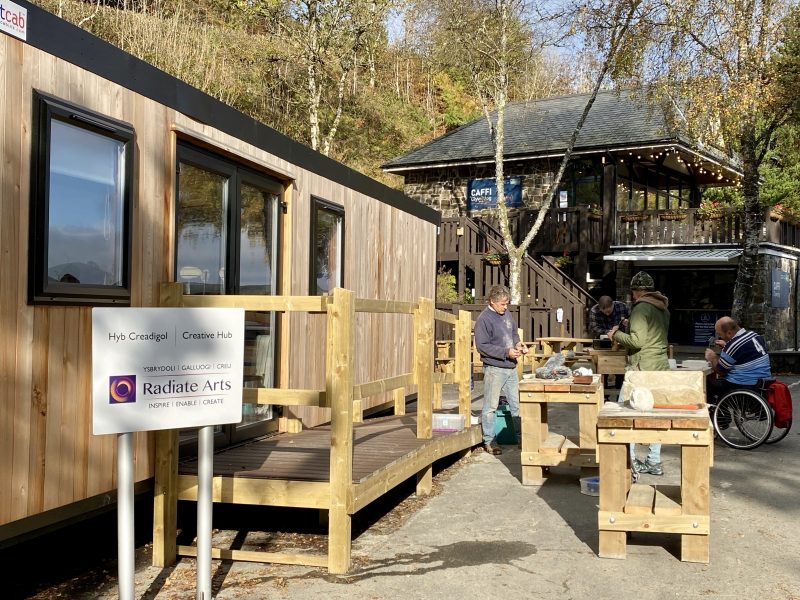 Cysylltu Clywedog /Connecting Clywedog is broken down into five stages, totalling 50 sculptures over five years:
Stage 1 (2021): Engaging people in the concept, development and planning of the outdoor sculpture space. Defining themes and collaborative workshops, measurable outputs and agreeing outcomes. Incorporating a 'Test and Learn' approach, Stage 1 will centre around Radiate Arts' base at Llyn Clywedog Creative Hub, adjacent to Llyn Clywedog Visitor Centre, Dam and Reservoir. Physical outputs will be a series of 40 community workshops culminating in three large-scale sculptures and eight smaller sculptures exhibited outdoors in the immediate vicinity of the Visitor Centre.
Stage 2 (2022/23): Expanding the range of activities and in turn expanding the outdoor sculpture space to key sites around the 14-kilometre reservoir perimeter, with 11 more sculptures created. This will be an opportunity to assess and re-imagine the project's initial vision together as a community, protecting and enhancing the green and blue freshwater spaces in the wider area, making it more accessible to visitors as well as building a diverse habitat for natural species. This will have a direct effect upon the introduction to new creative sessions and courses for sustainable living and waste reduction.
Stages 3/4 (2023/24): Continued expansion of the outdoor sculpture space, adding 20 more sculptures around Bryntail Lead Mines and The Dragon's Back Nature Trail, working closely with Cadw, Montgomeryshire Wildlife Trust and Natural Resource Wales (NRW) to develop in ways that enhance community engagement, and facilitate a thriving natural environment alongside increased levels of tourism. Stage 5 (2024/25): Widen the reach of the outdoor sculpture space to a trail within Hafren Forest with eight more sculptures, maintaining distance from important sites (e.g. the osprey nests) as increased audiences follow the new trails and working closely with NRW and following their guidance on protected habitats and species.
---
Find out more about Radiate Arts
@ArtsRadiate
You can find more great creativity, heritage and mental health projects in our recent report, Creatively Minded and Heritage.