Post-traumatic stress (PTS)* is sadly extremely common. So much so, that perhaps the most well-known trauma expert, Bessel van der Kolk, calls it a public health issue. Some groups in society are more likely to experience it, including for example refugees and survivors of torture, survivors of domestic violence, survivors of physical and sexual abuse, looked-after children, and veterans.
This blog explores how the participatory arts are engaging people with PTS, focusing particularly on arts work with veterans for a few reasons. Like all these groups, veterans are a population with a high incidence of PTS (50% and some say higher) who often have trauma histories that predate military service as well. However, veteran and civilian communities can inhabit different worlds, so this work might be less well-known to others in the arts and mental health field. Also, there is just not enough room to cover a full spectrum of arts, creativity and trauma in a blog!
However, the bigger picture is important. A number of our grant-holders who work with people with a range of mental health problems and/or with specific populations such as refugees told us many of their participants have post-traumatic stress. The wonderful Suffolk-based Art Branches run a small social prescribing group especially for people with PTSD. Some of the organisations below who work with veterans also work with other groups. This blog therefore includes as many references to work with non-veterans as possible on the basis that these worlds potentially have much to share with one another.
Northern Ireland
Because of the history of The Troubles, Northern Ireland is said to have one of the highest rates of PTSD in the world, so it's not surprising to find some brilliant arts and trauma practice here and a lot of expertise.
Esc films in Belfast specialise in therapeutic filmmaking. They work with huge range of people that includes military veterans and ex-combatants, former prison officers, and survivors of domestic and sexual abuse. In their words, they use group work and creative storytelling to take participants on a journey through their own lives, giving them new perspectives to enable them to make real and lasting changes themselves. Having PTS, Artistic Director, Tom Magill says, leaves you stuck in the past. Telling your story helps you to become unstuck and to write a new ending for yourself.
Also in Belfast, photography organisation Belfast Exposed runs therapeutic photography courses led by Mervyn Smyth, who was himself a photographer during The Troubles. He also works with a huge range of people including military veterans and ex-combatants, as well as others who have experienced loss and bereavement. Like Tom, Mervyn has found that photography is a powerful medium for working with people with PTS, giving people a measure of control back over memories that dominate their lives. New images can evoke new associations, he says, and change narratives.
"All those years of thinking about this place as a landscape I had to navigate my way through in fear, that was causing me harm, has now changed, I now see the beauty of the border landscapes, I am more at ease within myself." Jim, a therapeutic photography participant. See our recent report Creatively Minded and Heritage for more of Jim's story.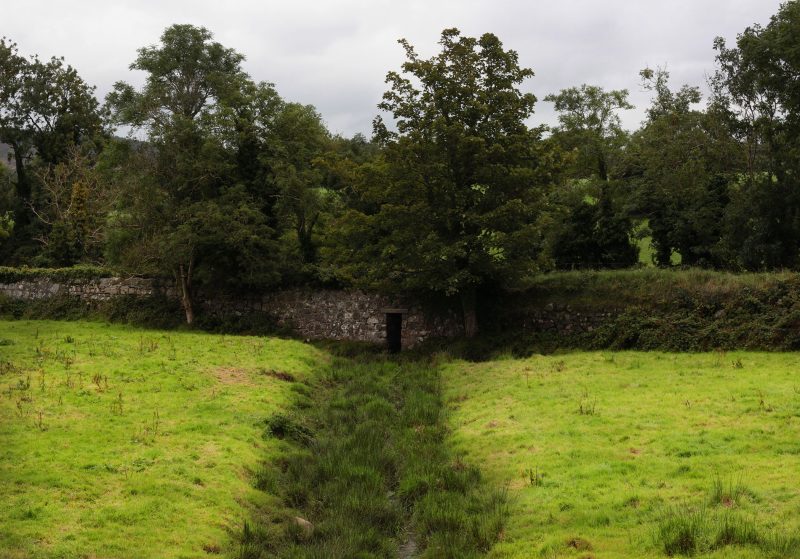 Wales
In Wales, Re-Live, have been using life-story theatre with veterans for over a decade. They also run the Coming Home Choir for veterans and family members and have recently begun a comic book project, in which veterans work with a professional illustrator to create a comic about their experiences.
"Re-Live have created a safe place to share painful memories that have haunted me for fifty years. The Re-Live storytelling doesn't attempt any formal therapy yet writing my story as a comic has achieved a positive result where previous exposure therapies failed." Stan, Comics Group project
In Pembrokeshire, The VC Gallery works with veterans, families and other community members with mental health problems. The VC Gallery was set up by Barry John, a painter who spent 23 years in the armed forces himself. It offers a drop-in visual arts studio but also runs a host of other activities focused on creativity and wellbeing.
With a foot in both Wales and in England, Radiate Arts, runs the nicely named stone-carving and sculpture project, Working with the Hard Stuff, for veterans. Last year, this group also took part in a photography residential – which was then followed up with other creative activities like print-making, creative writing and poetry. Radiate also run a small project at a women's refuge in Chester, many of whom are experiencing PTS.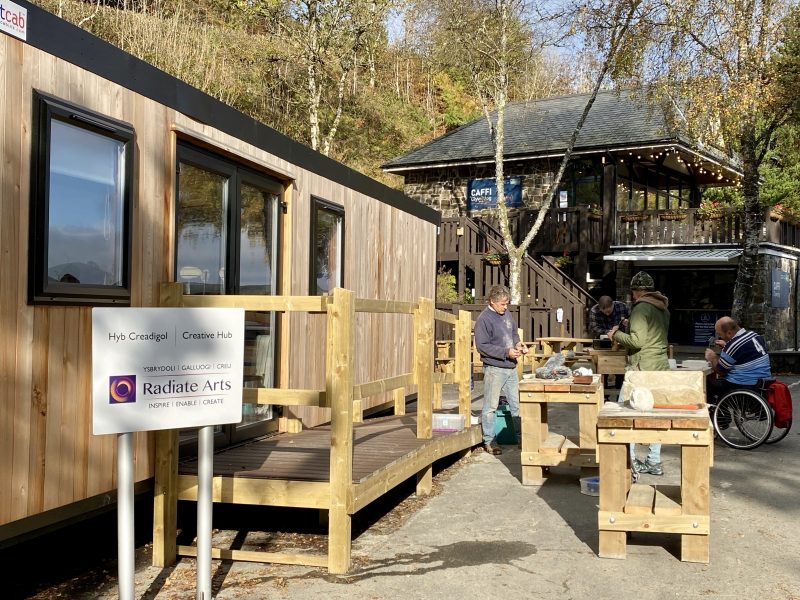 Scotland
North of the border, Stand Easy Productions is a theatre-making project for veterans and families, based in Dundee but working more widely. It was founded in 2014 by Alan Cameron, a theatre practitioner, who was inspired by watching a BBC documentary about Bravo 22 (see below). Stand Easy run weekly workshops but also annual four-week immersive theatre-making projects culminating with a performance (including one production for The Fringe). They also involve drama students from Edinburgh and Dundee colleges. Alan says this has been a hugely successful development – students have the time and take the time to listen to participants, and many have gone on to work with Stand Easy after graduating.
National
Bravo 22 Company is the Royal British Legion's creative arts programme, founded by theatre professional Alice Driver after a chance meeting with a veteran. Bravo 22 run weekend workshops across the UK, alongside two bigger projects over several months (one theatre-making culminating in a performance and one visual arts culminating in an exhibition). Like most veterans' arts organisations, they work with families as well.
Project Manager Sue Brodie describes their participants as often 'hard to reach', having struggled for years with debilitating mental health problems including PTS. There is a strong sense of community and veterans often travel a long way to attend sessions, with Bravo 22 often helping them to meet the costs.
Soldiers' Arts Academy (SAA) may be the biggest organisation – with hubs/partnerships in London, York, Exeter, Nottingham, Manchester, Salisbury and Edinburgh. It runs 3-4 workshops a week across art forms (poetry, theatre, painting, dance…) and has put on some big theatre productions – including Soldier On, which highlighted the impact of trauma. Soldier On toured the UK, including to the West End. SAA also has a focus on helping veterans get skills to start careers in the arts.
Concluding reflections
All of the practitioners were clear and keen to emphasise that they are not therapists, whilst recognising that what they do can be therapeutic. They articulate powerfully how they think what they do helps – whether that is the importance of bearing witness to traumatic experiences and the horror of war; the value of safe spaces to help people rebuild damaged trust in fellow human beings; or the potential to help people take back control and counter the feelings of helplessness that can be one of the legacies of trauma. Bessel van der Kolk's chapter on theatre in his seminal book, The Body Keeps the Score, is a much more expert account of what he thinks it is about theatre that helps in the recovery journey.
There seems to be limited research on participatory arts and trauma. The review for the WHO of the role of arts in improving health and wellbeing lists a number, but with a preponderance of arts therapy studies. Karin Diamond, co-founder of Re-Live, took part in a Brain Health Fellowship programme which brings together emerging leaders – from artists to scientists to journalists – focused on improving brain health and reducing the impact of dementia. How about a similar initiative for reducing the impact of trauma? The DE-CRUIT program in the US founded by veteran turned actor and director, Stephan Wolfert, is an interesting example of a grassroots theatre organisation that is now working with a university to understand the therapeutic potential of their work. Could there be more partnerships between arts organisations and researchers on this issue in the UK?
There is so much richness and expertise here, but with pressure on time and resources, few organisations know each other well. Back in 2016, Alison O'Connor, co-founder of Re-Live, wrote a report for the Churchill Fellowship on arts and veterans recommending an initial summit on arts and trauma for stakeholders across the arts, health and military sectors. As far as we know, that hasn't happened yet. Is it now time?
---
Thank you very much to Román Baca, Soldiers' Arts Academy; Sue Brodie, Bravo 22 Company; Alan Cameron, Stand Easy Productions; Steph Cross, The VC Gallery; Michael Cunliffe, North Tyneside Art Studio; Karin Diamond, Re-Live; Pam Gordon, Radiate Arts; Stephanie Hartnick, Art Branches; Kirsten Kearney and Tom Magill, ESC films; Mervyn Smyth, Belfast Exposed; and Camilla Thomas, Imperial War Museums.