… Cubitt's Education Programme Manager, Esther Collins, explains how the scheme works for elderly residents and artists.
The evening of 15 March 2018 was a special event for me. I found myself after hours in an Activities Room inside a care setting alongside curators, artists, architects, senior staff at Notting Hill Genesis and Islington's Deputy Mayor. We were all looking at an audio visual installation called AcCord.
The event was a celebration of artists work, in this case Amy Ash and Benjamin A Owen, and the innovative Community Studios scheme.
Since 2014, Cubitt Artists have worked in partnership with housing association, Notting Hill Genesis, to support 5 artists (2 at a time) in studio spaces on the 2nd floor of 73 Mildmay Street. 73 is one of a complex of three extra care settings, collectively called The Mildmays. Artists pay a reduced license fee in return for a number of voluntary hours per month working with residents.
As an example, since taking on the studio, Ben's work has included accompanying and photographing a group on a day trip to Southend, delivering clay- modelling workshops, organising visits to residents with live musicians (each resident has their own flat) and organising an all-day music event in Waterloo, in which residents took part. All of this work with residents relies on Activities Officer Marian Howell, who makes residents feel welcome, and the artists feel confident about the activities they invite residents to engage in. She plays a key role in the partnership's success.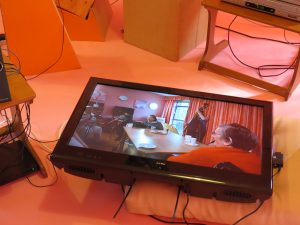 In another part of the building, the lounge area near the main entrance, guests and residents sit alongside each other amongst brightly coloured collage, drawing and photography works by artist Amy Ash. Amy uses a range of materials and processes to explore the function of memory.
She uses found photographs and photographic processes, such as chemigram and cyanotype, as a means of recording textures and outlines of objects. These are superimposed with drawings of physical gestures – the shape of a bent arm, or of fingers clutching a pen – from photographs of recent workshops she has devised and led. So these images on display in turn are created through layering memories, like stratum in rock, from near present to a much more distant past.
Studies by neuroscientists suggest that the amount of copper in the brain is linked to the development of Alzheimer's disease. Amy introduces copper in its chemical form as a material in her image making – it grows complicated patterns on the surface of photographs, changing, morphing, the visibility of what or who lies beneath.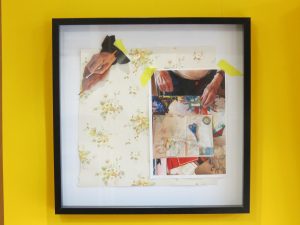 What is important to me as the manager of this community studios programme is to work with artists who leave things a little open-ended, who have an idea and a structure in place but who leave space for the participants, in this case older residents, to bring their own ideas and creativity, to shift the direction or the outcome of the making process.
On my way out of the building that evening Jackie, a resident and regular participant in the arts programme said to me:
'You don't know how important nights like this are to us who live here. I went upstairs to my flat and I felt so sad I came back down again. It's so lovely to see so many people here, all having a great time.'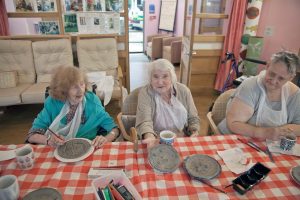 There is a certain amount of precariousness about living in London, and situations change. Since making the work which was on show at The Mildmays some of the residents Ben and Amy collaborated with have died, or gone to live in other care settings. Similarly, by June this year both of these artists will have moved on because of changes in their personal circumstances.
We have recruited new artists who bring a wide range of skills and expertise, and who are eager to work with this community. So I am excited about what will come next. But while we could, I am glad that the artists, Notting Hill Genesis and Cubitt worked together to hold this event. I am proud that we brought such a wide range of people together in a setting not usually open to the public to witness to the powerful and creative relationships between artists and residents which flourish there. For me, like Jackie, this will be a lasting joyful memory.
Esther Collins, Programme Manager, Cubitt
Photo credits: Esther Collins, Ben Owen, Dimity Nicholls