Having recently archived and digitised our 40 years of making bold and powerful theatre here at Spare Tyre, I am humbled by and proud of the wonderful shows and programmes we have produced for, with and by older people and older artists. Our cultural heritage project – called ST40 – has unearthed some gloriously funny, moving, and political moments in our history. We first started working with older people aged 60+ way back in 1993. Below is a sneak peak of our ST40 archive which we will launch online in Autumn.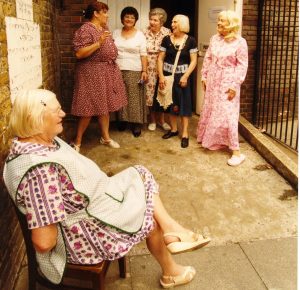 During our 40-year journey we have gone into communities and discovered people and stories from all sorts of backgrounds, celebrating them with musical theatre, issue-based theatre, devised theatre and verbatim theatre. These stories have been performed live or recorded for film or audio sharing. Revisiting these performances was truly fascinating, and sometimes we discovered moments we had forgotten, but it was clear they had a lasting impact on participants.
At every beginning and end stage of a project we ask the people we co-create with: "What is it that you want to do next?", "Who do you want your audience to be?". And over the years, as their aspirations have grown to perform to audiences beyond friends and family, so have our ambitions for them. Many of our older artists have gone on to opportunities with the Old Vic, Complicité and the Royal Academy of Dramatic Art (RADA). They act as our sounding board, they sit as our trustees, they represent us at events, and we are fortunate to have them advocate for us.
In close discussion with them, we have negotiated thorny issues around employer/employee, payment versus transport, and personal assistant support. Sometimes we disagree with each other, pausing a project as we find a way through. But essentially our trust in each other is mutual, we treat them with care and dignity and they show their support by simply being a part of our extended family.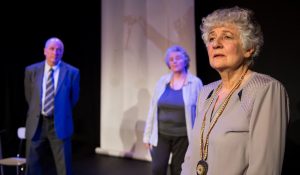 Slowly and steadily we have skilled them up, given them experiences we all only dreamed about: from establishing an older people's ensemble and performing at the Edinburgh Fringe, to seed funding and developing their individual projects and ultimately to five of them setting up their own theatre company, SilverSage.
SilverSage's first production, The Promise, which took place in February this year, tackled issues very close to them, like choice at the end of their lives and assisted dying.
The existence of SilverSage represents what we as Spare Tyre stand for: giving a voice to those who are underrepresented in theatre. Not only it is important to listen to the voices of these communities to ensure diversity in the arts, but we have seen in our 40 years that finding your creative voice can have a tremendous impact on individual wellbeing.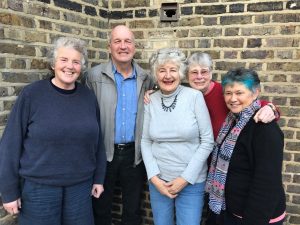 As I write this short blog I am beaming with joy because of what I am about to write next. On our Associate Artists page, you will see that SilverSage are now one of our Associate Artists. It has been a journey of 20+ years for some of them, from attending weekly drama sessions to calling themselves artists. The group raised money via crowdfunding and set up social media platforms to promote it and 'The Promise' sold out for all five performances. What a massive accomplishment! We can only look in awe at all that they have achieved to date, and wait in anticipation for their next adventure, as the artistic journey continues well beyond 60.
You can watch the 'behind the scenes' film about the making of The Promise here: http://www.sparetyre.org/watch-and-listen/the-promise-behind-the-scenes