This interview is published in The Artist in Time: A Generation of Great British Creatives by Chris Fite-Wassilak, with photographs by Ollie Harrop. More details about the book below. You can also find out more about the book at a virtual launch on 28 October 4.30-5.30pm – tickets available here.
Frank Bowling
I have grown into an understanding of what my vision is. Painting was something that I grew into without knowing anything about art and culture.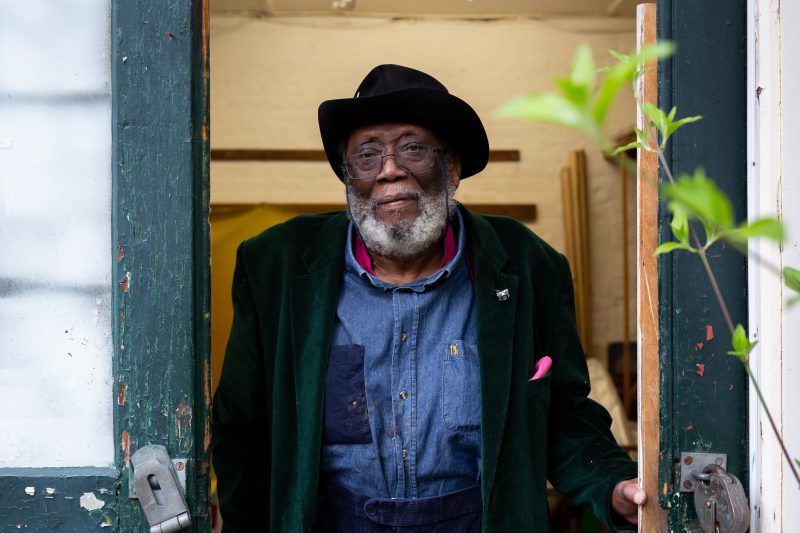 I came to art quite by accident. When I left Guyana in my late teens, I arrived in London to go to college, and found that the support that my parents could afford insufficient for me to live. So I had to take odd jobs, and then signed up for the National Service. Once I was in the Royal Air Force, I became friends with this amazing man who had been to art school himself, and was doing service as a medic. I lived with his family after we left the service – his mother was an agony aunt working for a newspaper and his father was a portrait painter. During the time I lived with them, I was sitting for portraits by the father and the son, as well as his friends who graduated from the Royal College. I would also be taken along to the Tate, the National Gallery, and the Wallace Collection – a very special place to me. And looking at the work there, I decided that I wanted to try and paint my own head, rather than let the others do it. So I started these self-portraits using industrial paints, because the available colours in art shops seemed not to be able to get to the ochres and umbers in my own skin.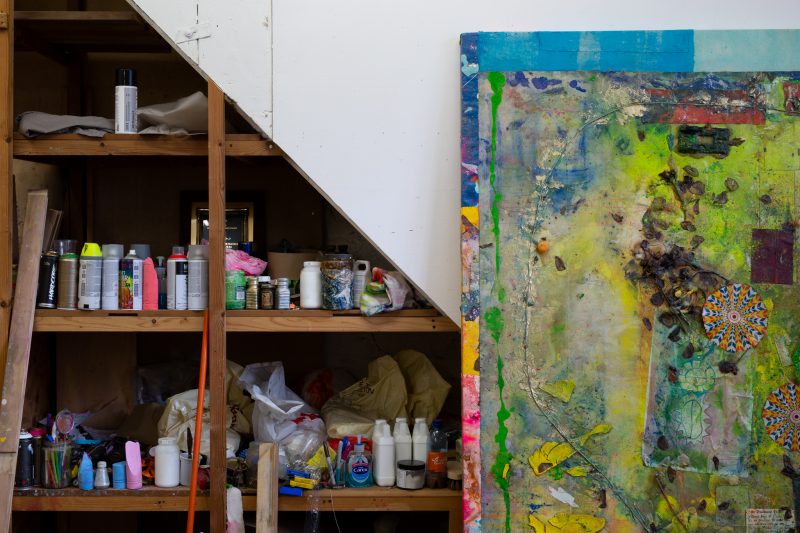 I struggled to find my own sensitivities to the material and paint, I was very secretive about what I was doing. I went to the Chelsea College of Art for half a term, until I had no money left except the bit I was getting from washing dishes in restaurants. I applied to the Royal College of Art, but in the exam I was told I didn't have enough 'work from life', as it was called – drawings of figures and the rest of life; I just had these images of my head and other imaginative things that I was concerned with, like beggars in Guyana. But I went to City and Guilds College, knuckled down and took the RCA exam again and I got in. That was 1959. And from then, I haven't stopped painting and not a day goes by without my time to paint.
That was 1959. And from then, I haven't stopped painting and not a day goes by without my time to paint.
I have grown into an understanding of what my vision is. Painting was something that I grew into without knowing anything about art and culture. Once I was a student, I realised that there was a certain effect of the emphasis on 'subject matter', that paintings had to be about something.
I found it really hindering; the subject matter of the artist is the material that they're using and not some story, right? I was restless – I realised that my attachment, my gift, my thrust was towards the material itself. I was more prone to taking the subjects we were given and turning them into tough visual realisations. Then my work then turned more to the internal structure of architecture, and the geometry of painting. Even once I moved to New York in the sixties, I found that a number of those American abstract artists took off from Turner, Constable, artists in the Norwich School. So when I came back to Britain, I realised that I could loosen up the whole thing. I became an abstract painter. And I still am, I think.
A lot of the work tends to hint at this and that. I'll read a poem by Frederico Garcia Lorca, for example, about the grey rain coming down in the turbulent sea, and the sea behaving like a bullfight arena. I've been pushing that idea of how the elements churn up and reveal really intense feelings. I suppose that's something that the work is striving to do all the time: to realise, through the materials, the kind of feelings and tremors that go through your blood, that is running through the entire national feeling of, say, Britishness. It isn't just about the need that we all have to make marks, you know. It can involve the mark-making process as it comes out in full, like in nature itself.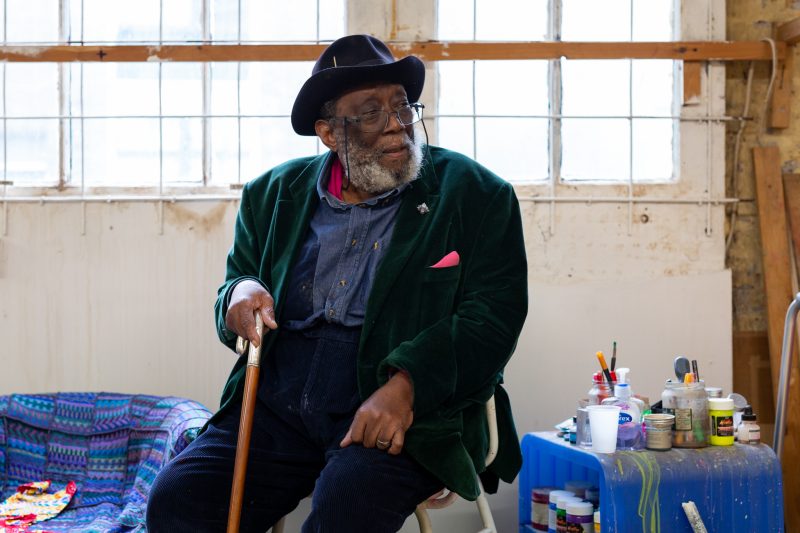 Painting is a specific job. I'm absolutely regimented; I used to just simply work all day long. Sometimes in places I was living, I worked through the night. These days, not being able to get out of bed really until later, we get to the studio for the afternoon and do a couple of hours and then go back. It's an everyday thing, we just get on with the painting. All this work is done un-willed, if you can imagine that. I feel something; nerves, 'tremors' is the word I use. You see something out of the corner of your eye, and by the time you're focused on it you want to eat it, like children do. That's the stuff: I make it and I put it in my mouth.
---

The Artist in Time is available from the publisher, Bloomsbury/Herbert Press, and from all good bookshops. If you're a grantholder of the Baring Foundation's Arts and Older People programme, we will be sending out copies when we are able to later this year. If you are attending our virtual launch for the book on 28 October (tickets available here), Bloomsbury are also offering a 25% discount.