October was a wonderful time for creative ageing throughout the UK and beyond. I was lucky enough to participate in new festivals in England and Finland and in the fifth edition of Luminate in Scotland. These festivals were designed to coincide with the UN's International Day of Older People on 1st October but there are now festivals throughout the year. This made me think about why festivals have been so popular in creative ageing and the different types of festival we and others have supported.
We have become so used to arts festivals of all kinds that it is doubtful that many people consider the religious origins of festivals and their association with food and feasts. Given that arts festivals have become an ever more popular way to showcase work, it has seemed natural to use this as a method to shine a light on creative ageing.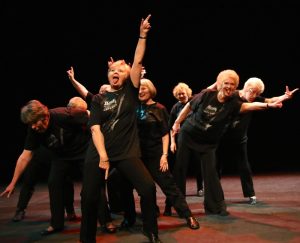 In coming to the field of arts and older people, we felt that it was getting insufficient attention and early on suggested to what is now Creative Scotland that we replicate the model of a national month-long festival that was taking place in Ireland. Now, not only does Luminate comprise over 300 events from the Borders to the Shetlands, but it has inspired a national festival across Finland which began this year. Gwanwyn has run throughout Wales since 2009 and recently Northern Ireland has had two festivals one run by the Arts Council Northern Ireland and one by Arts Care. Age UK Oxfordshire has taken the initiative to complete the UK picture with a first festival in England over the first two weeks of October.
Arts often happen at a much more local level though. For three years, we supported the Capital Age Festival across London, but there are an increasing number of town or city festivals such as Live Age in Stoke-on-Trent which we support with the Arts Council England through the Celebrating Age Fund.
Another approach is to incorporate creative ageing in broader existing festivals and we did just that in the case of the Manchester International Festival in 2017. This resulted in both greater representation of older people, for example in the inclusion of older men in the community choir, at the Royal Exchange in Fathers and Sons, and taking the festival directly into care homes through streaming and scaled-down performances by artists. We have recently funded Upswing, the aerial circus arts company, to work in care homes as part of the Hull City of Culture programme.
As well as festivals dedicated to creative ageing either nationally or locally and including arts and older people within established broader festivals there has emerged some exciting art form specific festivals concentring on older people. We have now supported two editions of the splendid Elixir Festival of older dance at Sadler's Wells and I am very much looking forward to next year's festival of Theatre and Dementia which will be run by the West Yorkshire Playhouse funded through Celebrating Age.
There is still room for much more innovation. How about a literature festival in care homes? I recently came across the wonderful Groot Letter Festival (Large Type Festival) in the Netherlands bringing famous authors into a care home and mentoring residents to become authors.
And there is much more to come. The Foundation is supporting the Southbank Centre in London to hold a major national and international festival next year. The feast continues.