We know that singing can lift the spirits. That should perhaps be reason enough to do it in care homes. However, if more reason is needed, there is a lot of evidence that it can also help people with dementia to remember and engage, alleviate the effects of breathing diseases, reduce anxiety, and help cement relationships between staff and residents.
Since 2015, A Choir in Every Care Home – a collaboration between 33 organisations led by Live Music Now, Sound Sense and the Sidney de Haan Research Centre – has been exploring how we can make singing more of a part of life in care homes. The project was initiated by and funded by the Baring Foundation. The current phase of the project involves running 10-week musical residencies, with Live Music Now musicians in a select number of care homes.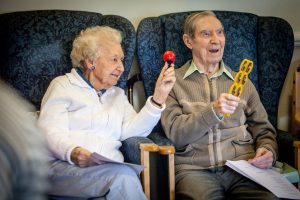 A residency along this model is currently taking place in Nightingale House care home in Wandsworth, South London. Nightingale House is run by an independent Jewish charity – it has nearly 200 residents and a very impressive commitment to offering them high-quality activities of all kinds, including arts. It recently made national news as one of the first care homes in the UK to offer space on its site to a local nursery and to provide intergenerational activities for toddlers and older people. This residency is being funded by the care home, Live Music Now and via the Chancellor using LIBOR funds.
When I visited, the project was on week eight of ten, and word had got around Nightingale House about the choir sessions. There were around 20 residents, some with care staff, and some with relatives who had popped in for the session. The singing was led by two Live Music Now musicians, flautist Rachel Hayter and vocalist, Noga Ritter, with Head of Activities, Alistair Addison, at the piano. Their skill both musically and in engagement with residents was impressive to see. The repertoire was varied – from jazz standards All of Me and Fly Me to the Moon to Jewish and Russian folk songs and hits from Fiddler on the Roof. The session was wonderfully interactive and drew on the known musical interests of residents. One resident, Nigel, who enjoys jazz led a scat interlude. In a previous session, it was discovered that Eric who has lost much of the ability to communicate can sing Schubert lieder from memory and has a wonderful singing voice, so he performed 'The Trout' as a solo. Several who had seemed distant or depressed in mood at the start seemed visibly happier and more alert by the end.
The quality was outstanding and the benefits of the involvement of brilliant, professional musicians self-evident. But realistically, care homes cannot afford to have professional musicians to lead sessions every week. This is why A Care in Every Care Home project also includes a research element exploring how they can equip care home staff to keep the singing going once the musicians have left.
Before the session at Nightingale House, the musicians meet staff from the home to go through some of the repertoire and discuss how the project is going. Staff come to singing sessions and are encouraged to sing with residents during the week. There are staff from all over the world and some have contributed songs in their own languages and taught them to the group. A toolkit is being produced which aims to help Activity Coordinators to develop singing projects themselves.
Nightingale House's new Director of Evaluation and Impact, Ali Somers, made a very interesting point about the issue of sustainability. We do not know how much 'intervention' is needed to make a meaningful difference to somebody's life, particularly if they cannot tell us. We all have moments of joy in our lives that last much longer than the actual event. Yes, we must make singing part of everyday life in a care home, because it makes people's lives better, but we must also celebrate the memories and moments created by specialised projects like this one, however fleeting they may be.
Harriet Lowe
More information
Live Music Now have produced an online toolkit to help care homes start singing.