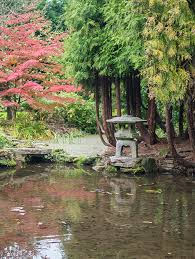 Do you like this picture of a garden? Where do you think it is? What happens next in this story?
England. Scotland? I think it's Japan. It explodes! An alien comes down and lands in the water. You never know. I don't know. I need my glasses!
The answers, whether serious or playful, are carefully noted down by Andrea Haley, a community dance artist, and read back out to the residents seated in an armchair circle around her.
There is something very positive about the careful inclusion of what everyone says, which is typical of the TimeSlips model.  Originating in the US a few years ago, it is becoming an increasingly popular way of working creatively with elderly people, especially those with dementia. It aims to 'replace the pressure to remember with the freedom to imagine'.
The picture in question is of the Japanese Garden at Newstead Abbey, the ancestral home of Lord Bryon, which is a few miles away from Millbeck care home in Arnold, Nottingham, where I have come to see a TimeSlips inspired session in action. The project is part of the Armchair Gallery project run in care homes by Imagine and Nottingham City Arts which combines digital with participatory art. Newstead Abbey is one of the local locations digitised for these sessions.
Some in the group have been to the Abbey, some might have. However, remembering the Japanese pond at the Abbey is not really the point, but rather just the starting position for what is an integrative arts session around the theme of water.
Next, two shimmering blue sheets of chiffon are used to create waves to the collective sound of 'What do you do with a drunken sailor'? Where are we? Skegness, says Eric! San Tropez says someone else.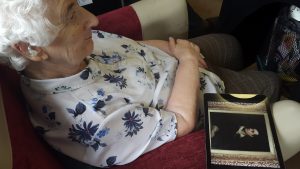 After some rousing singing, Andrea hands out ipads to the residents. These are loaded with the Armchair Gallery apps, which have been created as part of the Imagine Programme managed by Nottingham City Arts. This week, the app is a rather stunning animated coi carp pond. Residents gently press their fingers on the screens. The water ripples and the carp dart about as they trace their fingers over the surface.
Many of the residents in this group at Millbeck have mild or more severe dementia. However, even those with more severe dementia join in at points. One lady says little but watches and by the end of the session is singing the words of Bonny Bobby Shaftoe, a song I had forgotten I knew. That in itself encapsulates why the arts can be so important for people living with dementia – memory for songs has been shown to remain long after other functions have deteriorated.
Lord Byron didn't like time much either, raging against its arbitrary but relentless ways. It's hard to disagree with him while sitting in a care home, but I can't help feeling he would have approved of sessions like these which seek to relieve us from the tyranny of remembering and celebrate the imagination instead.
This project is part of a joint programme of funding between the Baring Foundation and Nominet Trust.