Singing For Our Minds is our brand new development programme that looks at the links between leadership, mental health, diversity and singing. Launched in February 2022, the programme has been designed specifically for artists from ethnically diverse groups currently under-represented in the arts.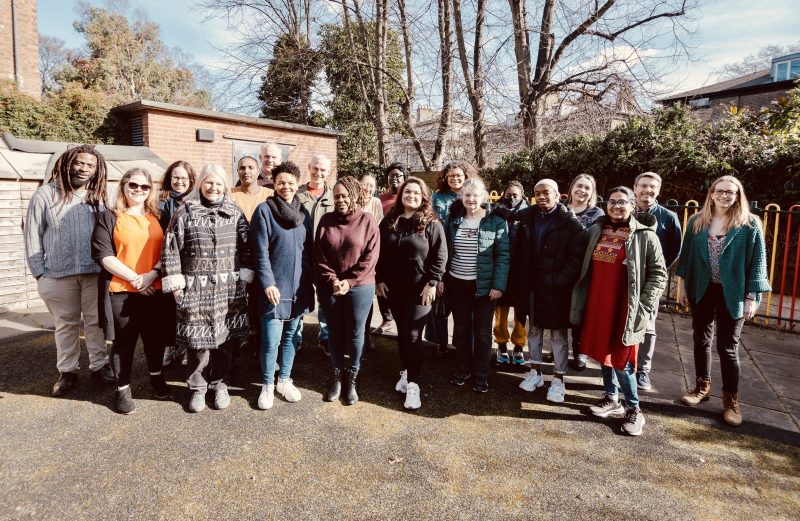 Produced in partnership by Together Productions and the Mind and Soul Choir at the Maudsley Hospital, the programme has been developed by leading practitioners in the field of arts and mental health practice. Course Leaders include Nicola Wydenbach, Aga Serugo-Lugo, Zena Edwards, Jeremy Haneman, Nadine Benjamin, Darren Abrahams and the mental health training team from SLaM (South London and Maudsley hospital).
Running for twelve months, our participants are currently learning how to embed techniques for promoting positive mental health outcomes in their leadership approach, and in doing so to build diverse, inclusive communities within group music settings. There is a particular focus on singing, and our participants are delivering in arts or education settings and regularly use singing as their medium. There are two groups involved – Practitioners who are professional and semi-professional musicians, and Wellbeing Choir Champions who are choir members passionate about promoting the mental health benefits of singing.
We began the programme with four intensive days in February and March which incorporated skills development, peer learning, resources, signposting and mental health awareness. Each of the practitioners led warm-up exercises involving singing and/or movement and we covered topics such as creating a safe space, personal self-care, mental health awareness training, the art of facilitation and group dynamics, overview of trauma and its impact on the voice, current research on mental health and the arts, writing mission statements, and journaling self-reflection on our own practice.
Simultaneously, the wellbeing choir champions joined for some of the sessions and visited each other's community choirs (the Mind & Soul Choir, Sing for Freedom Choir, Mixed Up Chorus and Camberwell Community Choir) and then had sessions identifying and creating their own roles as ambassadors for being in a choir, reflecting on what they get out of being in a choir and how it has improved their own wellbeing in a wide variety of ways.
We are now in the second phase of the project where supported placements, peer support, mentoring and leadership opportunities are being offered to the practitioners. Some of our practitioners have been observing and participating in various community choir rehearsals and many have been involved in attending and supporting Together Productions' other big project, Singing Our Lives. This has enabled our participants to see how other choir leaders do things and to gain valuable experience leading small sections of rehearsals in a safe and supportive way.
Our practitioners have been taking what they have learned into their own practice and are benefitting from one-on-one coaching sessions with the leadership team including Nicola Wydenbach, Jeremy Haneman, Aga Serugo-Lugo, Darren Abrahams, Holly Jones and Alexandra Godfree. This has enabled the participants to develop their own projects and ideas with the support of their coach, and to reflect on what is working well for them and what they need to work on. They are setting their own goals and also some lovely friendships and unforeseen collaborations have arisen as a result. In addition, they have been observing and participating in rehearsals of our choirs and doing outreach workshops in the community in conjunction with our Wellbeing Choir Champions to spread the message about the incredible wellbeing benefits that come from singing in choirs.
Our participants are also working with some film makers to develop a new short film we are making to celebrate the amazing benefits that come from joining a choir – this will be released in the Autumn. Singing For Our Minds is being independently evaluated by an academic from the University of Derby so once it is concluded we will be able to ascertain the merits of the course and make plans for developing and growing it, widening its scope and reach and enabling more people from across the arts sector to gain valuable skills, knowledge and experience around leadership and how to successfully navigate creating sessions that have positive outcomes on mental health, balancing creativity and learning with wellbeing considerations.
We hope that our current participants will then become alumni and mentors to future cohorts and encourage more leaders from ethnically diverse backgrounds to participate. Based on feedback received so far, the course is so far proving very successful, and we have high hopes for its continuing growth and expansion.
Singing for our Minds by Together Productions is one of 25 grants in our Creatively Minded and Ethnically Diverse funding round which aims to increase representation of ethnically diverse artists in arts and mental health work.