Does this work amount to a cultural change – and what – given that the number of older people continues to grow – do we need to do to ensure the work continues to expand along with them?
Late Opening, a new publication commissioned by Luminate and the Baring Foundation, is an attempt to summarise, in one place, the remarkable range of creative ageing projects across Scotland at the moment, and to ask what needs to be done to help this activity continue to thrive.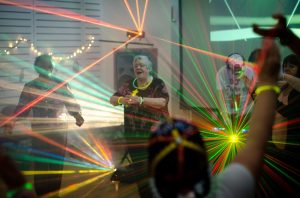 There is so much going on in Scotland that an exhaustive but also accessible summary was always going to be a challenge. Our solution was to focus on 14 case studies, across as many different artforms and locations as possible, from Arora, an innovative, multi-arts dementia project at An Lanntair in Stornoway that began as a study of bilingualism and the brain, to PRIME, a semi-professional dance company for over-60s at Dance Base in Edinburgh, which now has global ambitions. One of the questions the report asks is: does the combined impact of all these projects amount to something bigger than the sum of its parts – a cultural change?
Luminate itself is an important factor in all this, in supporting and showcasing projects like PRIME, Live Music Now's Composing with Care project, and the Flames, Tricky Hat's theatre company for over 50s, and increasingly taking on year-round strategic role. But it is also part of a much bigger, evolving picture, in which, for example, the efforts of organisations like the Festival and King's Theatres Edinburgh to cater for people with dementia appear to be having a wider, and significant, impact on the long-term strategic aims of those organisations.
A few common themes emerged from the case studies. The most obvious one was the positive impact these projects all have on the health and wellbeing of participants and, in many cases, carers and family members too – the publication is full of examples of this. But another key theme was that artistic quality is fundamental, and that the impact of these projects largely comes down to the particular skills – and the experience, professionalism and artistry – of the people running them. There is a world of difference between simply inviting someone to sing songs or tell stories in a care home to entertain the residents, and a project like Living Voices, in which carefully selected groups of storytellers, poets and musicians led monthly sessions with between five and 14 older people at a time over the course of 18 months.
This, as you'd expect, means that projects highlighted are not necessarily cheap, and some, such as Living Voices, have had to adapt to a more easily fundable model in order to continue. This, though, highlights another key theme highlighted by the report – the need to think long-term. After all, the number of older people in Scotland, as with other countries, is steadily increasing – the government's most recent figures suggest that the number of people aged 65 and over will increase by 53% between the years 2014 and 2039. This publication makes a powerful case for the importance of the arts to the health of this ageing population, in Scotland and beyond.
The publication, funded by the Baring Foundation, was launched at Edinburgh Festival Theatre on Wednesday 25 October and is available here to download.