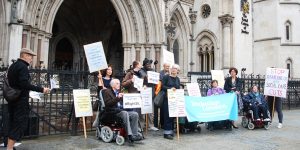 Bringing about social change is hard work and there are always many barriers, but there are also many methods to bringing about change. The law, in its many guises, is a tool for social change that is not always used by civil society organisations.
The 'law' can mean many things; from drafting legislation, proper implementation of existing legislation to litigating in courts. Some organisations may be wary of going to court, but when used carefully litigation can play a key role in helping achieve their aims.
To get more NGOs in this country to consider litigation as a tool for change, Joseph Rowntree Charitable Trust and Paul Hamlyn Foundation commissioned separate reports evaluating two instances where litigation was used successfully by NGOs which brought about significant change.
The first report prepared by IVAR focuses on strategic litigation by Detention Action, a small, non-legal NGO. Detention Action took legal action over the Detained Fast Track (DFT), a process where asylum seekers were routinely detained in high security centres while waiting for their claims to be decided. Detention Action and its legal team brought a series of challenges that took several years, culminating in the Supreme Court upholding a Court of Appeal decision that the DFT was 'systematically unfair'.
The report finds that strategic litigation can be a highly effective campaign tool although it is a huge undertaking for a small organisation. The report examines the process surrounding the litigation, the factors that led to the litigation being successful, as well as the risks and challenges that Detention Action faced. The report finds that
Detention Action's ethos of building relationships with their legal team, the wider sector, and the government was an important factor in the litigation's success.
The litigation was a vital tool in a broader advocacy strategy. While Detention Action chose not to seek media coverage given the highly politicised nature of the issue, lobbying and policy work alongside the litigation [helped to ensure / enabled Detention Action to work towards] change in the longer term.
Detention Action's experience of working directly with people in immigration detention gave the organisation substantial credibility.
The litigation would not have been possible without a supportive management committee and a protective costs order.
The second report prepared by Dr Vanhala of UCL looked at Just for Kids Law's intervention in R v Tigere in the Supreme Court. The case was about the denial of student loans to lawfully resident young people who were not British citizens. The findings were similar to the IVAR report, concluding that:
Being involved in a strategic litigation requires leadership on the part of senior management and trustees, on both the legal and communications side over the course of the campaign
Proximity to those with lived experience of the issues is important;
Getting lawyers with different expertise if the issue spans two areas of law;
Awareness of the potential costs involved and risk assessment of the implication of those costs;
Recognition that a communications strategy requires investment at a senior level and can take up significant time and resources to be able to shape the media narrative in a constructive way. The value of training key spokespeople cannot be underestimated.
The importance of what the report describes as 'legacy activities', to ensure that whatever the outcome of litigation, work continues to be done to 'achieve an effective remedy'.
Dr Vanhala had previously been commissioned by the Baring Foundation to write a report on Successful use of Strategic Litigation by the Voluntary Sector on Issues Related to Discrimination and Disadvantage. There have also been reports commissioned reviewing strategic litigation in other jurisdictions. In 2013, Atlantic Philanthropy analysed what successful public interest litigation might look like, building on lessons it had learned with 20 years experience in South Africa. Atlantic concluded that while litigation is a useful tool in bringing about social change, it is most effective when used in conjunction with other social change tools rather than in isolation; including the support of key communities, public education, media coverage, political lobbying and policy reform.
We hope that these reports are a useful starting point for NGOs and lawyers in the UK who are considering becoming involved in using the law to bring about social change.
This blog was first published on the website of Just for Kids Law. Find out more about their work.
Photo: Strengthening the Voluntary Sector grantholder, Inclusion London, intervened in the first case about The Care Act 2014 to reach the Court of Appeal earlier this year.