February 2020 is also LGBT+ History Month. You can find out more about it here and more about our funding programme to support LGBTI communities in sub-Saharan Africa today.
We felt many of our projects, and the projects of the wider arts sector, neglect older LGBTQ+ people [who are] a group at greater risk of social isolation, loneliness and stigma.
New Writing South is based in Brighton, which has a rich LGBTQ+ community, culture and history. Although New Writing South has worked extensively with the South East's LGBTQ+ communities, it was felt that many of our projects, and the projects of the wider arts sector, neglect older LGBTQ+ people. And as a group at greater risk of social isolation, loneliness and stigma than both other older people and other LGBTQ+ people, we recognised a real need to better reach this community.
Celebrating our Stories is an exciting two-year project collecting and celebrating the stories of older LGBTQ+ people in the South East of England by turning them into a series of performances, culminating in a festival later in 2020 called Here Us Out. There will be a main public performance but also satellite performances in community and day centres, residential homes and other non-arts / cultural spaces. There will also be opportunities for people to come together to socialise and discuss issues affecting older LGBTQ+ people.
Older LGBTQ+ participants will be involved at every stage of the project. So far our participants have had the opportunity to share their stories; train as story gatherers to collect other people's stories; and participate in 'story listening workshops' where we listen to people's stories and discuss how they might be brought to the stage. In the next stages of the project, participants will have the opportunity to work with the stories as writers, theatre makers and performers; help with the organisation and marketing of the festival; perform in or help front or back of stage at the festival; and of course attend as audience members.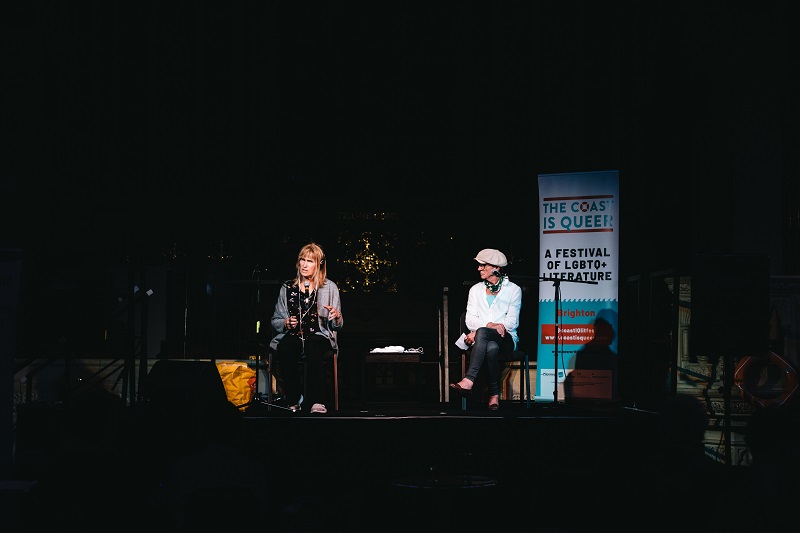 Through collecting the stories of older LGBTQ+ people it has come to light that many older LGBTQ+ people feel the need to go 'back into the closet' when they move into residential care or have carers visit their homes. It was heart-breaking to hear about this little known issue. We hope this project will allow isolated LGBTQ+ people to feel more connected to their identity and community. As some of our activities will take place in residential homes, day centres, etc. that aren't specifically LGBTQ+ settings, we hope to reach older LGBTQ+ people whether they're 'out' or not whilst tackling general stigma within those settings.
It was important the project was led by LGBTQ+ arts professionals to promote a safe space for our participants and from the start it has been our vision that our older LGBTQ+ participants feel a sense of ownership and control over the project. We want it to be a collaborative process and not a prescription of what we think this community wants. The majority of our steering group is made up of older LGBTQ+ people to advise on and help us make decisions about the project. One person commented that they're thankful the project is something for older people that isn't Vera Lynn, which highlights the assumptions we often make about what older people like. There is often a standard offering for 'older people' and a standard offering for 'LGBTQ+ people', and older LGBTQ+ people are often failed by both. This makes it even more important that we listen to the needs of this intersectional community.
We have been touched by the feedback we have received so far:
The project makes me happy – it's a positive, creative, fun group who are interesting and inspiring to be with. It's unusual and a change for me to look forward to a group and leave the group feeling better than when I came in. I feel part of the community – not outside it.

Helen, 58
I have gained a real sense of belonging to this sweet community of older people, their wisdom, humour, creativity. And it's important to me, being trans, to find I belong here in a world which is so often hostile.

Persia, 70
Looking to the future, it has been our hope that there would be a life for this project after the festival in 2020. Perhaps that's making the festival a recurring event; creating other projects with this community; or supporting the alliances our participants make and any projects that stem from that. But whatever the future holds, it will be earnestly spearheaded by the older LGBTQ+ participants that make up its heart and soul.
Celebrating Stories is a Celebrating Age project, a joint fund by the Arts Council England and the Baring Foundation.