Creative Alternatives is an arts-based social prescribing programme which has been operating in the North West of England since 2006. The programme engages adults experiencing stress, depression and anxiety through multi-modal arts activities, working across creative media and weaving in self-care and wellbeing practices. The programme philosophy is holistic and asset-based, creating soulful and playful spaces for flourishing, drawing on the 5 Ways to Wellbeing as well as principles of integrative medicine and psychology. The programme is commissioned by the Alef Trust, a social enterprise which is also active in online education, delivering university-accredited programmes in consciousness studies, spirituality and psychology.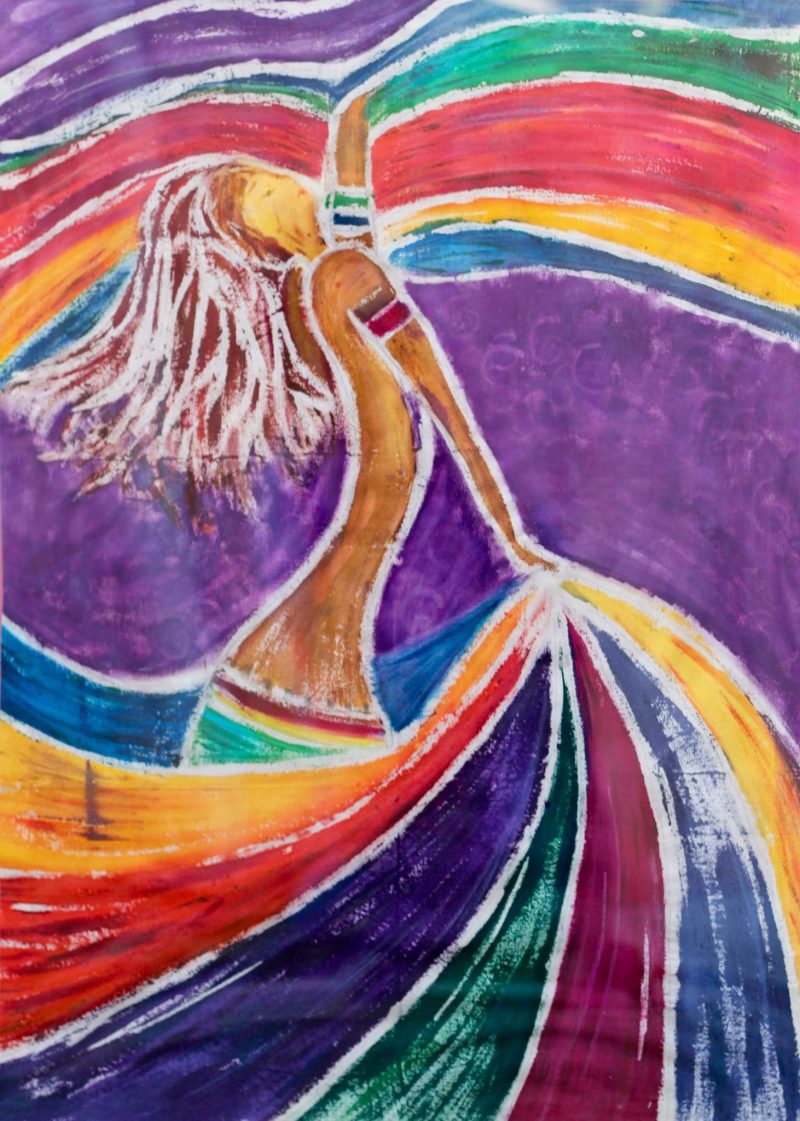 In 2017, having experienced what online spaces and practices can achieve in community-building and transformative learning, I experimented with moving Creative Alternatives into the online space. Now, in the light of the COVID-19 pandemic which is isolating people at home, making local delivery impossible, the learning, resources, and practice model created in the Creative Alternatives Online pilot is proving invaluable. Here is what we did in 2017, what we learned, and what we are doing now:
What we did:
In 2017 we designed an online version of our arts-on-prescription service, offering themed creative wellbeing activities over a period of 12 weeks. We took an asset-based approach to the design of content, focusing on themes of self-care, gratitude, as well as a vision-building, identifying sources of inspiration & wellness with every participant. We delivered this through a collaborative online learning environment, offering a safe & confidential online space accessible via sign-in.
Every week we shared new content – videos, podcasts, activity guides, exploring an uplifting theme. Participants engaged with new content and then shared their responses in asynchronous forums, where they could write and share artwork at a time convenient to them. We also held live sessions on a video-conferencing platform, enabling people to connect directly, talk, play and dream.
What we learned:
People from Merseyside, Greater Manchester, the Midlands and London took part, completing the same evaluation we use for our local arts-on-prescription programme. Using mixed-methods evaluation, we found that working online was just as effective as working locally. People needed some tech support to be comfortable with the tools we were using, but once settled in, they got more and more confident, created their own content and shared beautiful artwork with one another, motivating and supporting each other to take new actions in their lives. As facilitators we needed to be very present, responding quickly to forum posts, as well as pace the release of content appropriately. In videos and live video calls we needed to be playful and embodied in front of the computer screen, encouraging people to be curious and experiment.
I have severe depression and anxiety and find it difficult to go to the things outside of home, so an online course is ideal. I persisted with this. I couldn't do that with the local programme.
(Rosie, participant)
What we're doing now:
In light of the current crisis, whilst people are self-isolating and social distancing (we prefer calling it physical distancing!) we're transferring our local programme to the online platform, evolving our content and engagement:
We're building on our existing online content, as well as sign-posting participants to other free online resources.
We're creating weekly videos that encourage creative play with materials that people can easily access from home. All activities are based on creative ways of exploring things around the house, minimizing the use of costly art materials: Mandalas with natural materials and food stuff, playing with paper cutting and collaging, wet media in the kitchen, as well as creative writing…
We focus on exploring the extraordinary in the ordinary, exploring our homes as creative resources, engaging with familiar objects in imaginative and unfamiliar ways, to give respite from worries and find inspiration.
Participants will be encouraged to upload creative writing and photos of their creations to our online platform. Families can become involved and co-create.
Each week, we will also host live sessions and chats where our artists are online, encouraging people to share their ideas and experiences and inspire each other.
We are also planning to interact more on our social media platforms so that we can reach the wider community, encouraging creative self-care and respite for all.
For those people who are unable to get online we are developing Creative Home packs that will be posted out and that will include a range of arts and wellbeing focused activities doable from home.
Fundamentally we take a person-centred approach, trying our best to help all stay connected and feel cared for. If you want to hear more, or share what you're doing online, get in touch!
Creative Alternatives Online gave me experiences and tasks that were life-affirming and allowed me glimpses of the hidden creative parts inside me. […] They were still there. The relaxation and calmness that came with some of these tasks were like little oasis in horrible times. It was like finding the real me was still there.
(Janet, participant)