Strengthening the Hands of Those Who Do: A Review of the Baring Foundation's Strengthening the Voluntary Sector Programme Project Grants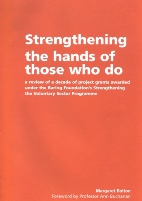 Report by Margaret Bolton.
This programme ran between 1996 – 2005 and gave out hundreds of grants for organisational development worth up to £30k with an average value of £8k. This review looks at the impact of these grants on a random sample of 50 organisations.