Growing the creative ageing movement: international lessons for the UK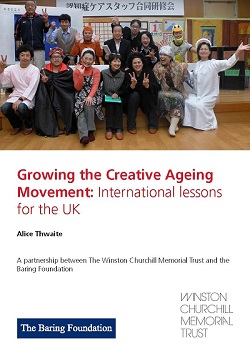 This report showcases and synthesises the learning and experiences from a 'Creative Ageing' fellowship scheme run by Winston Churchill Memorial Trust (WCMT) and supported by the Baring Foundation.
The WMCT funds UK citizens to investigate inspiring practice in other countries. In total, 47 fellows over four years took up creative ageing fellowships, including arts practitioners, dancers, therapists, care workers, writers, trainers and directors.