Finding the Right Support? A review of the issues and positive practice in supporting parents with learning difficulties and their children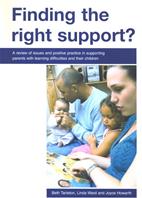 Report by Beth Tarleton, Linda Ward and Joyce Howarth.
An increasing number of adults with learning difficulties are becoming parents. The Government has committed itself to providing appropriate support for these parents and their children and yet, in around 50% of cases, children are removed and placed permanently outside the family home. The report includes an agenda for action. The Baring Foundation has subsequently funded the Norah Fry Research Centre to lead a consortium to pursue these recommendations.
Finding the Right Support? Summary
Finding the Right Support? Plain Facts  version for people with learning difficulties