Arts and Refugees; History, Impact and Future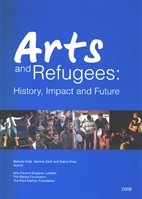 Along with two other funders, the Arts Council England, London and the Paul Hamlyn Foundation, the Baring Foundation commissioned Hybrid Consultancy to look at work over the last fifteen years across the UK to involve refugees and asylum seekers in the arts. The researchers identified over 200 arts organisations working with refugees across all media. The report was launched at the Baring Foundation on 20th May.
Hard copies are available free of charge from the Baring Foundation's office.